Seminary Hill Press releases fourth edition of Everyday Evangelism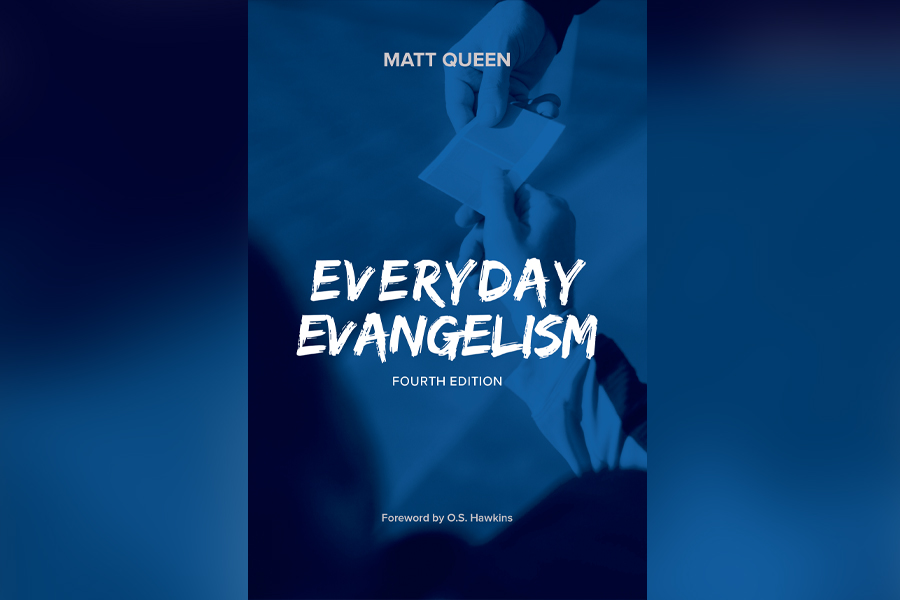 The fourth edition of Everyday Evangelism, written by Interim Provost and Vice President for Academic Administration Matt Queen, was released today by Seminary Hill Press, the publishing arm of Southwestern Baptist Theological Seminary.
The book's content was "refreshed so that there is a newness of the future," said Queen. The latest edition has an updated cover that matches the seminary's blue hue and a new foreword written by Southwestern's new Chancellor O.S. Hawkins. "It's an honor, once again, for me to have a book that Dr. Hawkins was able to endorse," Queen added.
Blog posts that were originally written for a Southwestern faculty blog called "Theological Matters" became the content for the book Everyday Evangelism. Queen said his blog posts were "popular" and were compiled to create the first edition of the book. The first edition of Everyday Evangelism was a gift to attendees at the Southern Baptist Convention and it has become one of the best-selling books published by Seminary Hill Press, Queen explained.
The book includes "personal stories of evangelism" as well as a "blueprint for the way Southwestern Seminary has helped equip students in evangelism since 2010," Queen said, while adding that "Everyday Evangelism is kind of just a snapshot of the spirit and tradition of evangelism that's been taught at Southwestern since 1910."
Queen said Everyday Evangelism is one of the first books that was published by Seminary Hill Press and "is the longest-running title." The goal of Everyday Evangelism from its roots has been to "provide an accessible resource for pastors" and "laity" to be "reinvigorated in their practice of evangelism, in the practice of everyday evangelism," he added.
Queen said his favorite chapter in the book is chapter eight, titled, "I question your evangelism!" The chapter includes eight questions that are intended to make a person "evaluate their practice of evangelism," Queen explained. He said the questions for the readers are not meant to "make them feel guilty," rather, the questions are meant to "ask what they really think about evangelism. Your doctrine will result in duty."
Evangelism has been a part of Queen's life since he was a young boy. His dad modeled the art of evangelism with him and Queen passed the importance of evangelism on to his two daughters. Queen's personal life as an adult has been reflective of his exuberance and passion for evangelism. When his girls were babies, he and his wife would push them in their strollers and go door-to-door, sharing Jesus with Fort Worth residents. His girls saw the Gospel presented clearly and often, which has led them to continue sharing the Gospel naturally and boldly.
Queen also wrote a new book that was released in January called Recapturing Evangelism. "Everyday Evangelism was the seed that blossomed into Recapturing Evangelism," said Queen. Recapturing Evangelism is used as his textbook for evangelism and goes deeper with more details. "Recapturing Evangelism would have never happened had it not been for Everyday Evangelism," noted Queen. Everyday Evangelism is shorter than Recapturing Evangelism and is designed to be an accessible source that everyday people can use to share the Gospel.
"My hope is that someone who reads Everyday Evangelism is going to say that they were very interested in it and want to know more," said Queen. He also hopes that they might take it a step further and read Recapturing Evangelism "to get a little deeper."