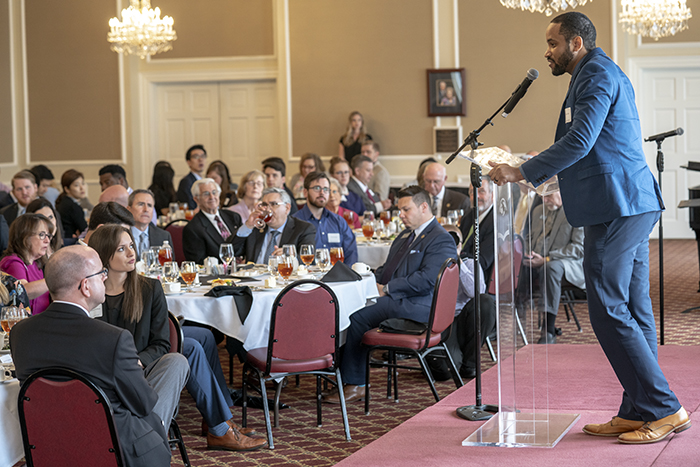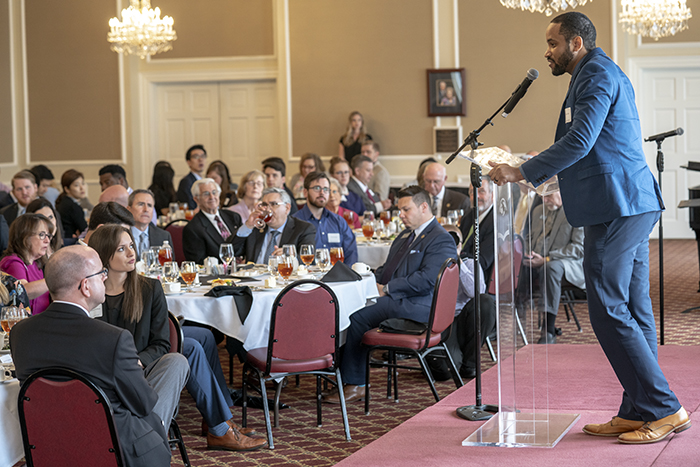 Southwestern Baptist Theological Seminary celebrated the accomplishments of 47 outstanding students April 30 at its annual awards ceremony, recognizing them for personal and academic excellence through their seminary studies. The luncheon also saluted generous ministry partners who invest in the legacy of Southwestern Seminary to make the awards possible.
Blake Allen, a Master of Divinity student and recipient of the Lifeway Leadership Award, was selected to address his fellow students. "Six years ago, I was sitting on a rooftop in the Philippines," he said. "I rose early that morning to seek the voice of God in prayer. That day, the Lord began to open my eyes to the need of the Filipinos, and began to make His plan clear to me."
Allen determined that he would share the Word of God. He returned to the United States to train for his mission, and was called to explore the campus and curriculum of Southwestern Seminary.
Here, he met a past acquaintance who became his future wife, and she urged him to evaluate his priorities carefully and choose Southwestern Seminary for his training. Today, Allen believes that an education at Southwestern Seminary "is making it possible for us to train for the greatest race we will ever run."
Southwestern Seminary President Adam W. Greenway commended honorees for their academic excellence and hard work.  "You are not here by accident," he told them. "Out of the pool of recipients who could be chosen, you were the one. Already, you are a different person than when you arrived here. The Lord has worked to sanctify you."
Greenway also thanked Southwestern Seminary's generous donors and sponsors, who enrich the seminary's legacy through the awards. "Behind every one of our awards, there is a story," he said. "Your story has now intersected our own."