Brown aims to prepare students to serve in churches through an 'approachable' teaching method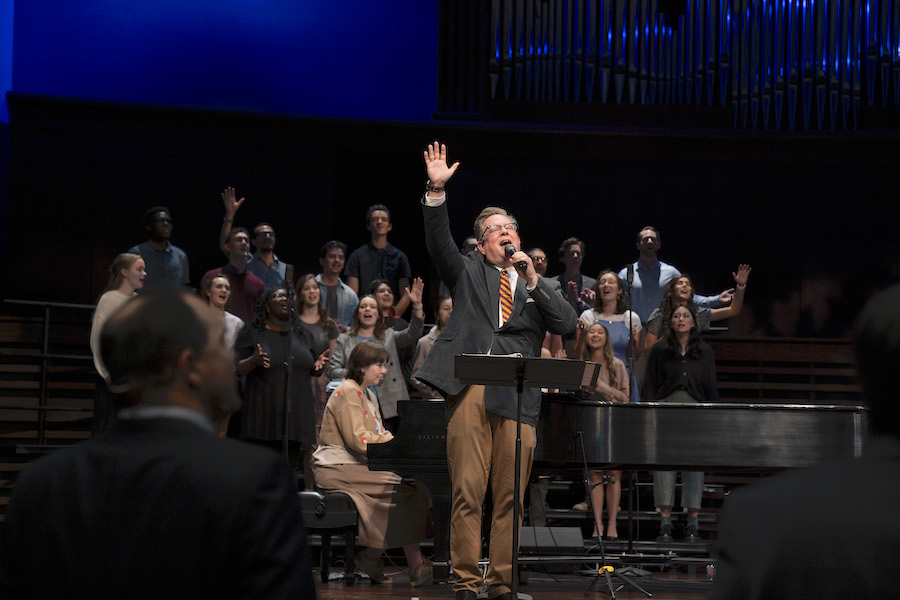 Joining Southwestern Baptist Theological Seminary and Texas Baptist College (TBC) faculty in 2022, Marc Brown, assistant professor of church music and worship, tries to help each student learn about how they can serve in the local church. Through supporting students in extra-curricular activities like the weekly masterclass held on Monday nights and going to Coffee and Music Nights in the campus coffee shop, Brown wants students to know he is there with them.
Growing up in a Christian home in rural South Carolina, Brown believes his story of salvation and early life to be somewhat "boring."
"I was in church since before I was born," said Brown. "I was six years old, going to church every Sunday morning, Sunday night, and Wednesday night, and I heard the Gospel presented every single time I was there."
Brown said he was baptized at a First Baptist Church in a rural town in South Carolina, after receiving Christ into his heart at age six.
"I remember questioning why I hadn't told people that I believed who Jesus was, so I talked to my parents," said Brown. "My pastor walked over, and he and my family were satisfied with me being about to articulate and express what I believed about Jesus. I then walked down the aisle on that Sunday evening."
Although Brown played sports throughout his childhood and high school years, his love for music began to ring out louder than other endeavors.
"There comes a time in about sixth grade, with all the sports you can play, where you are either good at it, or you are not," said Brown. "You have to be good to keep going with most of those sports, and I was not good, but my love and knack for music was always there."
Brown said that his mother once suggested that he should look into being a minister of music due to his ability and love for music. Brown's response was, "That would be the worst idea ever." Brown said that his mother "still likes to tell that story."
When Brown was entering high school, he and his family moved from South Carolina to Bowling Green, Kentucky.
At age 16, Brown recalled feeling led to walk before his church and let his pastor and congregation know that he was surrendering his life to full-time Christian service. Though he was encouraged by people to not label and limit his calling, Brown felt that calling would be in music and worship.
After surrendering to the call on his life, Brown searched for the right college to attend. He noted that this was before seminaries had undergraduate programs like TBC. Brown attended Western Kentucky University and earned a Bachelor of Arts in Music.
Upon graduation from college, Brown moved to Louisville, Kentucky, and earned a Master of Church Music from the Southern Baptist Theological Seminary and began a 27-year stint of serving in local churches as a music minster.
Brown served churches in Indianapolis, Indiana, a Virginia suburb of Washington D.C., and Louisville. For the final seven years of his time spent in vocational local church ministry, Brown also served as an adjunct professor at Southern Seminary while earning his Doctor of Philosophy degree.
As Brown finished his final degree, he was approached by Joseph Crider, dean of the School of Church Music and Worship, about potentially joining Southwestern Seminary and TBC as a professor.
"Dr. Crider talked with me about how much work that he and Dr. Lewis had on their plate last year, and they needed some help," said Brown. "They told me that the school was in a good place right now in growth and they needed someone else to join the faculty, and that was me."
In his first full year of teaching at Southwestern Seminary and TBC, Brown said that he is still discovering what his teaching style will be.
"I have been taught well by professors before me, so I am trying to put things into a sequence that students can learn meaningfully, like I did," said Brown. "There are some places that are scholarship for scholarship's sake, but I love that Southwestern is preparing people for the church."
Hugo Encorrada, a Master of Music in Worship Leadership student  at Southwestern Seminary, described Brown as "very approachable."
"He is very clear, and he is always giving compliments," said Encorrada. "But you know, he has a lot of experience in the worship area. Anytime you need to ask him something about worship leading, he has a wise answer to give you."
Encorrada noted that Brown will "never make you feel stupid for asking a question," even when the answer is obvious.
"Whether it is a theological question or a question about music," said Encorrada, "he will always have something that will encourage you and help you continue in your development."
Outside of the classroom, Brown takes his daughter to TBC Coffee and Music Nights to both show support for students and to have his daughter see what TBC has to offer.
"I love going over to support our students, specifically our undergrad students," said Brown. "I get to bring my daughter with me, and I love seeing her make friends with TBC students and seeing her mind get around to the idea of potentially going here."
When not on campus, Brown enjoys watching "The Great British Baking Show" and baking on his own. He watches the program "like it is a sporting event," said Brown. "And then if I am stressed, I just tell my wife that I need to bake something, and it calms me right down."
Finding a church home was one a different kind of transition for Brown when he moved to Fort Worth, but also a life event in a new city that many students and faculty members can also relate.
"For the first time since I was 19 and my wife and I were dating, we have to look for a new church," said Brown. "God kept calling me to serve in churches, so it was really hard."
Brown said that he eventually concluded that he needed to "stop visiting and settle in at a church," and that is what he and his family did when they joined First Baptist Church of Benbrook, Texas.
"I sing in the choir and on the praise team," said Brown. "I play guitar in the rhythm section sometimes. I have taught Sunday school classes and I have been blessed to fill music minister roles on various Sundays at other churches in the area that need help."
Though he is no longer serving on staff at a church, Brown continues to serve the Lord with his 27 years of experience by preparing a new generation to go out and serve local churches well.