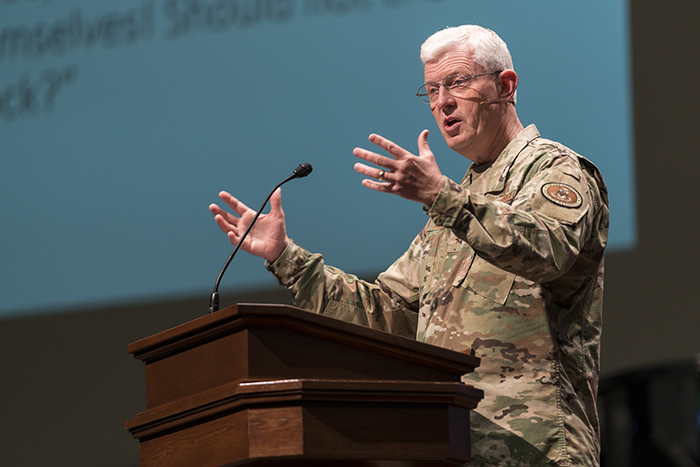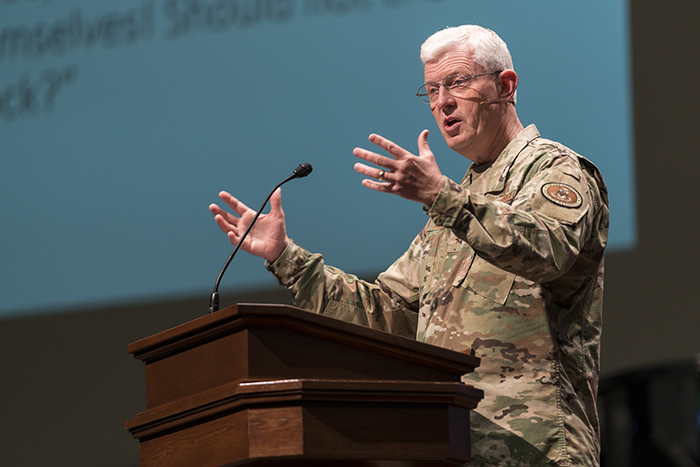 During Southwestern Baptist Theological Seminary's chapel service, April 16, attendees had the opportunity to hear a special message from U.S. Air Force Brigadier General Ronald M. Harvell, deputy chief of chaplains of the U.S. Air Force. Harvell, a Southwestern Seminary alumnus, shared experiences from his nearly 30-year chaplaincy career, describing the honor of serving alongside other God-called men and women who care for U.S. airmen and their families.
Harvell also extended a challenge to seminary students to consider how they might better serve military members and their families with regard to the provision of community, spiritual care, discipleship, and prayer. He encouraged Southwestern Seminary's future ministers to consider, "How could you help support the military people in the community you serve?"
As a college and seminary student, Harvell's desire was to surrender his life to international missions. However, Harvell said God ultimately called him to chaplaincy, where he has served for many faithful years.
Referencing his missions training, Harvell described the military as an affinity group with its own commonalities in purpose, language, identity, and challenges faced. Harvell's chaplaincy has enabled him to minister in nearly 30 countries.
In his challenge to chapel attendees, Harvell asked them to consider how they minister to military members and their families, who make great personal and familial sacrifices. Not everyone will be called to serve in an official capacity with the military as a chaplain, Harvell said, but they can still be purposeful in the ways they connect with military leadership and extend care for the practical, spiritual, and emotional needs of each military member and family that comes through their churches and communities, even for brief periods of time.
"I would like for you to think of ways to help them and their families be as spiritually strong as they can be for the challenges that they will face," Harvell said. "We are going to ask them to do tough stuff. We are going to ask them to be separated from their families. We are going to ask them to go to war zones. We are going to ask them to do incredibly hard missions. And they are going to do it, and their families need to be as strong as they are."
Serving these individuals will require a commitment to fervent prayer, Harvell said, as well as a commitment to a transformational ministry that seeks to come alongside each individual and provide spiritual care and guidance appropriate for each of their walks. "I am talking about life-changing, spiritual formation of the Lord Jesus Christ in the life of folks for them to develop to become His disciples," he said.