Dockery announces Grace as provost, other academic leadership appointments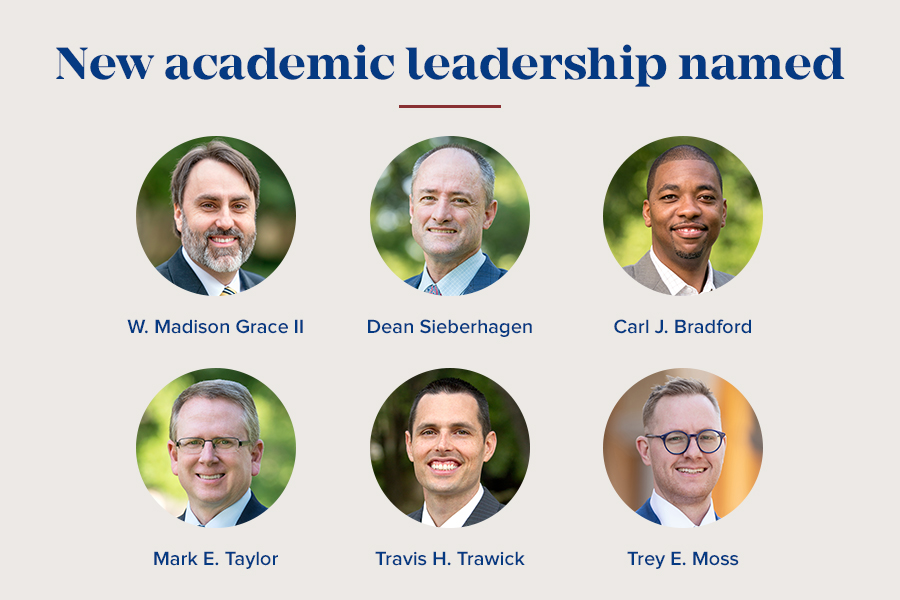 New academic leadership of Southwestern Baptist Theological Seminary was named today by President David S. Dockery beginning with the fall semester, including naming W. Madison Grace II to the roles of provost and vice president for academic administration and dean of the School of Theology.
Dockery also named Dean Sieberhagen, associate professor of Islamic Studies, as the interim dean of the Roy J. Fish School of Evangelism and Missions, and Carl J. Bradford, assistant professor of evangelism, as the interim associate dean of the Fish School.
Noting that Grace is "highly respected by both Southwestern faculty and students," Dockery said he is "incredibly grateful to Dr. Grace for his willingness to provide this level of leadership for Southwestern."
Grace "is deeply committed to Southwestern and the Southwestern mission," Dockery added. "As a two-time graduate and one who has served for years on the Southwestern faculty, Dr. Grace will carry out this work with great appreciation for the best of the Southwestern heritage."
Grace, who has served as the interim dean of the School of Theology since January, began teaching at Southwestern in 2014 as assistant professor of Baptist history and theology. Additionally, he has previously served as the managing editor of the Southwestern Journal of Theology and director of the seminary's Research Doctoral Studies Program. Grace, who is also associate professor of theology and director of the institution's Oxford Study Program, is co-editor of the 2021 Kregel publication Making Disciples of All Nations: A History of Southern Baptist Missions.
Grace earned both his Master of Divinity with biblical languages (2006) and Doctor of Philosophy in systematic theology (2012) degrees from Southwestern Seminary. He also holds a Bachelor of Arts in Christian studies degree from Mississippi College.
Sieberhagen, who served as an International Mission Board missionary in Central Asia from 1999 to 2012, has served at Southwestern since 2013.
"Dr. Sieberhagen is a seasoned missionary and missiologist and an outstanding classroom teacher, who is greatly appreciated by students and faculty," Dockery said.
A native of South Africa, Sieberhagen has served as associate professor of Islamic Studies, Vernon D. and Jeannette Davidson Chair of Missions, and director of the Islamic Studies Program at Southwestern. He was the 2023 recipient of the David S. and Lanese Dockery Award for Teaching Excellence, an annual award that honors the professor nominated by faculty colleagues for faithful teaching of students and personal care and concern for students' spiritual development inside and outside of the classroom.
Sieberhagen earned a Doctor of Philosophy from the University of South Africa (2013), a Master of Divinity from Southeastern Baptist Theological Seminary (2001), and a Bachelor of Commerce from Rhodes University (1985). He also holds a post-graduate Diploma in Education.
Bradford, the inaugural occupant of the Malcolm R. and Melba L. McDow Chair of Evangelism, has served as assistant professor of evangelism at Southwestern since 2018.
"Dr. Bradford is a gifted and committed evangelist who is deeply committed to Southwestern," Dockery said of the two-time Southwestern Seminary graduate.
Bradford teaches in the areas of contemporary evangelism and the theology of evangelism and missions, and he has served as the faculty leader of Southwestern's Crossover teams at the Southern Baptist Convention's annual meeting for the last six years. Additionally, he leads groups of students in Everyday Evangelism, a weekly ministry opportunity that allows Southwestern and Texas Baptist College students to visit various places in the Fort Worth area to share the Gospel.
In addition to his Southwestern Seminary Master of Divinity (2011) and Ph.D. (2018) degrees, Bradford earned a Bachelor of Science in Business Administration from Xavier University located in his hometown of New Orleans.
Dockery said he is "truly thankful" for Sieberhagen and Bradford's "willingness to serve in these important roles at this time."
All the new appointments are made with the "full support" of Southwestern Seminary Chancellor O.S. Hawkins and Board of Trustee Chairman Jonathan Richard, he added.
All new roles are effective immediately.
Continuing in their current roles with expanded responsibilities are Mark Taylor, associate dean of the School of Theology; Travis Trawick, associate provost for academic services; and Trey Moss, associate vice president for academic administration. Trawick, associate provost since June 2021, will focus on institutional effectiveness, and Moss, who came to Southwestern in 2019, will have an enhanced role related to academic strategy and programs.
Other academic leaders of the seminary who will continue in their current roles are Chris Shirley, dean of the Jack D. Terry School of Educational Ministries; Joseph R. Crider, dean of the School of Church Music and Worship; M. Todd Bates, dean of Texas Baptist College; and Terri Stovall, dean of women.