Dockery highlights enrollment, giving increases, recognizes staff in annual faculty, staff meeting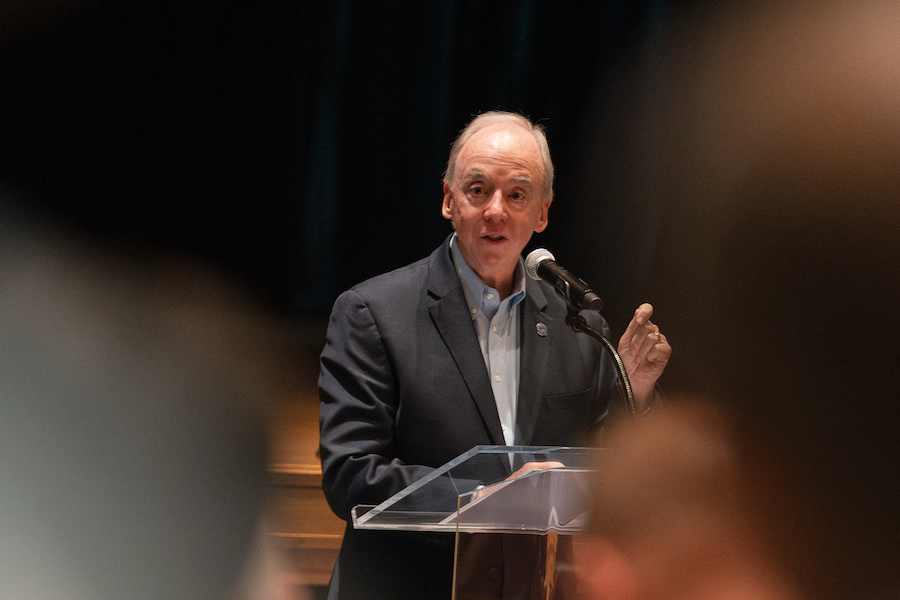 Increases in total enrollment and unrestricted giving for the recently concluded academic year and a new theme passage for the new academic year were announced by President David S. Dockery during an Aug. 9 annual meeting of Southwestern Baptist Theological Seminary personnel as the 2023-2024 academic year begins.
"As we begin this new year, let us begin by pledging to continue the best of the Southwestern tradition and heritage," Dockery said. "It's something we need to remind ourselves regularly. It's a great privilege to serve at this place, which for 115 years has carried forward the B.H. Carroll vision for theological commitment, scriptural fidelity, and Gospel faithfulness."
Dockery asked faculty and staff to "commit ourselves to that heritage afresh today and trust the Lord for His blessings in the days to come."
Dockery, who was elected the tenth president of Southwestern Seminary in April, announced 1 Thessalonians 5:16-18 as the theme passage for the new academic year. Recalling God's faithfulness in answering the prayers tied to Psalm 90:17, which Dockery claimed as the theme verse for the 2022-2023 academic year when he was appointed interim president in Sept. 2022, the Baptist statesman asked faculty and staff to join him in "asking the Lord for us to be a joyful, prayerful and grateful community" during the upcoming academic year as the campus community "recognize[s] our total dependence on God and praying continually will be essential for us as we move forward."
Dockery said he was "thankful" to announce total enrollment for the 2022-2023 academic year, which concluded July 31, was 3,574, an increase of 171 students from the previous academic year, which also saw an increase of 1,583 credit hours taught for the year.
The numbers "represent more than just statistics," Dockery explained. "They represent almost 3,600 people who have been influenced by the educational experience at Southwestern, so they can be prepared for God's call on their life, they can live their calling, and make a difference for the sake of the church and the advancement of the Gospel."
Unrestricted giving for the 2022-2023 year also saw an increase, which Dockery said totaled slightly more than $3.2 million when the academic year concluded in July, compared to $2.8 million in the previous academic year. He noted this was accomplished with the Office of Institutional Advancement spending $700,000 less to raise the funds. He thanked Jack D. Terry, interim vice president of institutional advancement, O.S. Hawkins, chancellor, and the staff in the Office of Institutional Advancement for their work.
The meeting also included the recognition of three Southwestern staff "for their extraordinary service, their deep commitment to Southwestern, and going above and beyond in every way," Dockery said. John Hofecker, senior associate registrar, Kelly King, research doctoral programs coordinator, and Jamie Knight, operations manager, were highlighted for their service over the past year.
Deanna Kiser, associate vice president for human resources and risk management, recognized Southwestern staff and faculty celebrating quinquennial anniversaries.
Fran De Wysockie, administrative assistant in the School of Church Music and Worship, was honored with a standing ovation for 35 years of service at Southwestern. Kiser described De Wysockie as the "quintessential behind-the-scenes team player" and "the glue that has held and continues to hold the School of Church Music and Worship together."
Bill De Wysockie, learning systems administrator, and Mark Taylor, associate dean of the School of Theology, were honored for 25 years of service. Terri Stovall, dean of women, was recognized for 20 years of service, while Adam Covington, director of digital content, Jeremiah Kim, associate professor of theology and director of the Korean D.Min. program, and Travis Trawick, associate provost for academic services, were all recognized for 15 years of service.
Wendell Brown, HVAC supervisor, Dean Sieberhagen, interim dean of the Roy J. Fish School of Evangelism and Missions, and Mike Wilkinson, director of the Professional Doctoral Studies program, were all honored for 10 years of service. Five-year service recognitions included Carl Bradford, interim associate dean of the Fish School, Matthew Bennett, project manager in Campus Technology, Rebekah Hodges, associate director of marketing and alumni engagement, Adam Majerus, director of education technologies, and Andrew Streett, associate professor of biblical studies.
"Much work was done this past year in trying to restructure and give some new direction to the budget," Dockery said. Adding that "we still have some work to do" in this area in the upcoming academic year as it is "an ongoing process," Dockery said, "there are some very measurable ways that we've seen significant improvement" as "high priority" has been given to budget stewardship.
Dockery noted that the monthly payroll for the year "changed drastically," mentioning that payroll in August 2022 was $2.072 million, which decreased to $1.536 million for July of this year. He said the institution is entering the new academic year with 35 fewer full-time employees than the same time last year.
He also announced the sale of a five-acre portion of the Carroll Park Apartments property, while noting the seminary looks forward to closing on the remaining 15 acres in the coming months. Dockery commended the work of trustee John Rayburn and seminary staffer Colby Adams for their efforts on this matter.
"We all know that the financial challenges at Southwestern are very real," Dockery said, adding the challenges "touch every aspect of our work and they're long-standing and they're systemic, which are underscored by the warnings that we received from our accrediting agency this summer," referring to the notice Southwestern received in June from the Southern Association of Colleges and Schools Commission on Colleges (SACSCOC), the accrediting agency for degree-granting institutions in the United States' southern states.
Noting that the institution has 24 months to address the warnings, which are largely related to finances, Dockery stressed: "A warning is not probation." He added that a warning "is what it says it is: a warning to Southwestern, 'Get your act together,'" while probation would affect the institution's accreditation. He emphasized the seminary is taking the matter very seriously while explaining that "every program remains fully accredited." He said Southwestern will give a report to SACSCOC in April 2024 and a follow-up report in April 2025.
In his concluding remarks, Dockery encouraged the faculty and staff to "rejoice at the strong efforts that have been made all across the campus and all those who've made a difference in recent months to our work here."
"We have much work to do," Dockery reminded the Southwestern community. "But let us not forget the progress that has been made over the past 10 months. We made significant steps and we still have a long way to go, but we have things on which we can build now" as he encouraged the faculty and staff to "thank God for each and every marker of hope, recognizing our total dependence on the Lord for all of these things to take place."