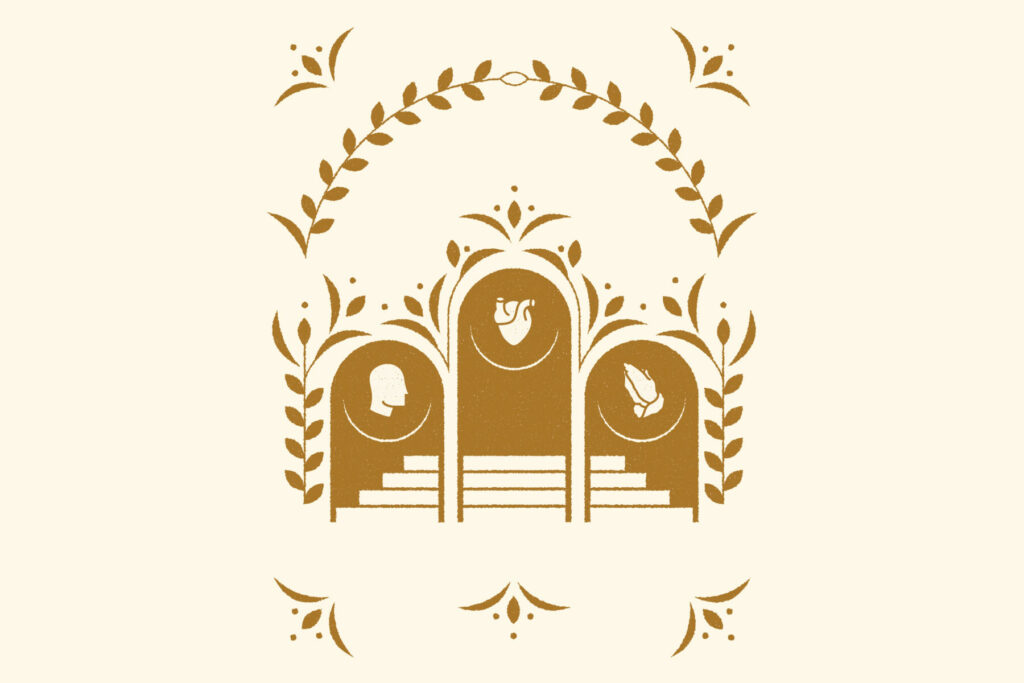 Editor's note: The article originally appeared in the Spring 2023 issue of Southwestern News.
An education at Southwestern Baptist Theological Seminary and Texas Baptist College is designed to equip men and women to discern, understand, and live their calling. Education at Southwestern Sem­inary and Texas Baptist College, which is focused on carrying out the essential teaching task commissioned by the risen Christ (Matt 28:19- 20), seeks to be grace filled, Christ centered, Scripturally grounded, confessionally guided, student focused, and globally engaged.
Preparing men and women for their calling is a holy privilege, granted from our gracious God. The goals of this institutional calling are three fold: to build up men and women to serve the church, to lead them to maturity in faith, and to encourage them toward Christian unity (Eph 4:1-16, 11-16).
 Scriptural Insight Regarding Calling
Calling in Scripture takes on various forms. All who have placed their faith in Christ have been called to salvation (Rom 8:29-30; Eph 1:4). Christ called people to be His disciples (Matt 4:18-22). Moreover, the New Testament emphasizes that some have a distinctive calling to service, including the apostles (Mark 3:14, Rom 1:1; 1 Pet 1:1) and the Apostle Paul (Acts 9). The Old Testament also points to some who had a special commission from the Lord such as Moses (Exod 3:14), Samuel (1 Sam 3), and Isaiah (Isa 6:1-8). Others, like Abraham, received a new name, which was tied to their calling (Gen 12; 17). The Bible portrays God as calling His people to salvation and service, while appointing some to specific tasks.
Education and Calling
Education at Southwestern Seminary and Texas Baptist College is not merely career preparation as often found among other professional educational approaches. The uniqueness of a thoroughgoing Christian approach to education points beyond skill enhancement to character development and Christian worldview formation that challenges the predominate secular way of seeing life and work.
We want to equip the mind, form the heart, and prepare the hands by inculcating truth and developing graduates who will enter the world with the good news of the Gospel. We certainly want professors, staff, and students who are competent in their skills, but who are primarily convictional in their confession, caring in their relationships, and pre­pared to contend for the truth of God that is foundational for life and living, doing so with gentleness and respect (1 Pet 3:15).
This educational approach, with a commitment to revealed truth, was once the hallmark of the large majority of educational institutions in this country. Sadly, it is no longer the case with the rise of secularization and specialization in the nineteenth and twentieth centuries. The result has been a separation of heart from head, faith from knowledge, revealed truth from discovered truth, and careers from calling. What happened was a loss or distortion of worldview across the academy. Instead of seeing all types of work or service as vocatio (the Latin word for calling), the idea of calling became quite limited or lost altogether. Contrary to this trend, we desire for the concept of calling to permeate the Southwestern community's view of education, pedagogy, and service.
Implications for Southwestern and Texas Baptist College
There are several implications for our work on Seminary Hill. Faculty and students should be more attentive teachers and learners because our motivation for learning is different. We want to learn more about God and His world, His purposes, and His activities as they shape our calling and focus. The purpose of learning is transformed from something beyond that of merely getting a job, as important as this may be.
Education shaped by a Christian understanding of calling and worldview thinking can help restore the loss of morality and accountability in our society. This full-orbed understanding of education can help us to become more faithful followers of Christ, more reflective and mature people, as well as better family members, neighbors, and citizens. It provides a framework for life, helping us become better people since education involves more than information; it points to formation and transformation as well.
Such an educational approach values content but also character. Students can know what is right as well as do what is right. Discerning, understanding, and living our calling develops from an educational approach that not only desires to inform the mind, but to renew the heart and will as well.
Certainly Genesis 3 tells us that sin has corrupted and degraded the concept of work and calling. It specifically states that because of sin, work will change its character, thus at times embodying the idea of weariness, trouble, and sorrow according to the writer of Ecclesiastes. Let us not miss, however, that prior to the entrance of sin into the world, the Genesis story intimates that God had invited humans to get in on the work, to tend the garden that God created.
The Christian tradition has historically affirmed that all honorable callings are divinely ordained. Martin Luther, the great sixteenth-century Reformer, attacked medieval monasticism by saying one need not be a monk or a nun to serve God. Thus, the servant, the plowman, and the maid, he claimed, all do their work and carry out their calling for the glory of God.
Luther's understanding of vocation, however, is not to be seen as a glorification of human activity. It is rather a celebration of the continuing creativity of God. Luther's emphasis was not on jobs, but on calling, which involves doing everything for the glory of God. Our work and service should be seen as worship. We do on Monday what we do on Sunday, which is to seek to glorify God in all that we do (1 Cor 10:31).
Students and Calling
What does this mean for students at Southwestern Seminary and Texas Baptist College? It means they can glorify God by studying hard.
Students have been called to the vocation of student. They have been given gifts and graces that come from God for study and for carrying out God's call on their lives. Study is not just for the self but so that one can better contribute to others through study. So, we urge students to be faithful in their studies for it is their current calling.
As we diligently seek to prepare students to live their calling, we want to encourage the right motivation in seeing their lives, ministry, service, and work as being done unto the Lord. Thus, our work is connected with our calling, and understood as a blessing from and unto the Lord.
Our calling at Southwestern Seminary and Texas Baptist College is to equip ministers, missionaries, musicians, counselors, educators, and leaders, and others as well, recognizing that Jesus is Lord of all.
We are committed to the preparation of students since we recognize calling, work, and service as gifts from God (Gen 2:15). We believe that these various callings are to be pursued with excellence, for they are to be carried out for the glory of the Triune God (1 Cor 10:31; 2 Thess 3:6).
While the distinctive work of the seminary is focused on the preparation of Gospel ministers for various roles in the church, in education, and on the mission field, among other ministry opportunities, the work of the college has broader implications. Still, we recognize that all honest professions are honorable. We learn from biblical examples like Adam, who was a gardener; Abraham, a rancher; Joseph, an administrator; Deborah, a judge; David, a shepherd; Lydia, a businesswoman; and Paul, a tentmaker.
Discernment, Preparation, and the Glory of God
We affirm that the gifts and abilities that men and women have been given find their source in the goodness of God, who is the one who has called us to salvation and to service (Rom 12:3-8). We also believe that all blessings associated with one's calling come from God (Deut 8:18; Ps 75:6). One discovers one's calling from both the inner guidance of the Holy Spirit (1 Cor 9:17) and the external confirmation of God's people, often demonstrating itself in a desire to serve both God and others.
The apostle Paul encourages followers of Christ to prepare well for their calling (2 Tim 2:15), pursuing excellence to honor the Lord in all that they do (Col 3:23-24). The biblical pattern is that preparation precedes presentation (Mark 3:14; Gal 1:11-24). Christ followers are responsible to plan and prepare well, to utilize and mobilize the resources, the capacity, the intellect, the motivation, the expectations, and all that God has given us, using them to the fullest in order to serve with God-honoring faithfulness.
As the wise teacher said almost three thousand years ago: "Whatever your hand finds to do, do it with all your strength" (Eccl 9:10). And, we would add with the apostle Paul – do it all for the glory of God. Let us pray that the Southwestern and Texas Baptist College community will faithfully live our calling for the good of the church and the advancement of the Gospel among the nations.
 David S. Dockery ('81) serves as the tenth president of Southwestern Seminary and Texas Baptist College.