Jones's 'unique ministry' helps students, faculty begin their fitness journey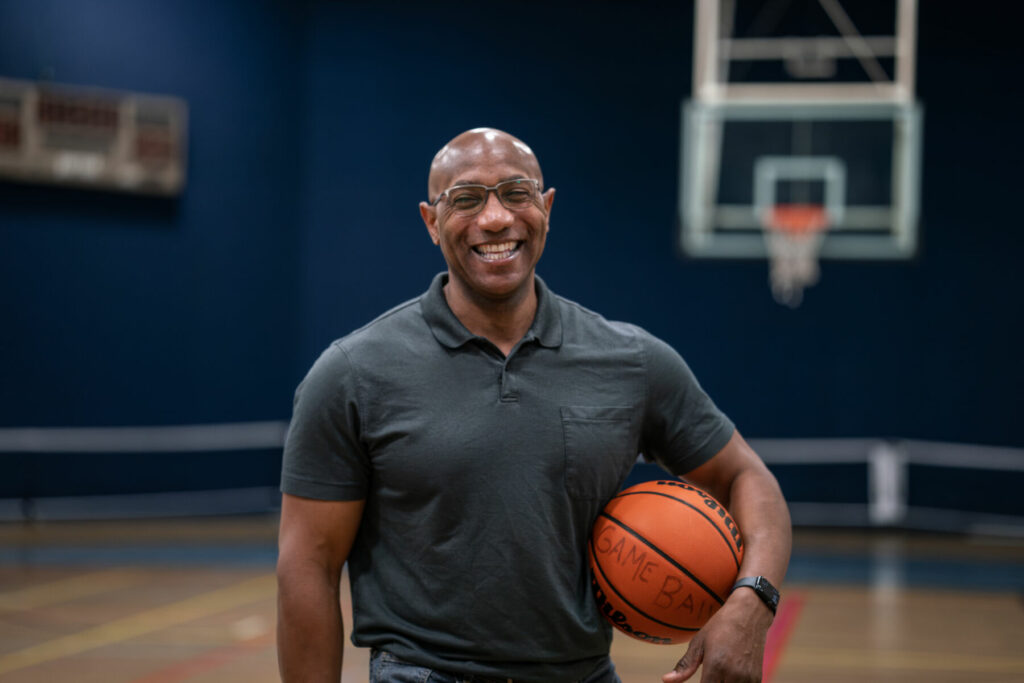 After the Recreation and Aerobics Center (RAC) of Southwestern Baptist Theological Seminary closed during the COVID-19 pandemic, Jerome Jones, a former college basketball player and veteran of the sports industry, was asked to help revive the RAC as a place for physical fitness. For Jones, the RAC is more than about fitness; it's a " unique ministry."
From the Hattiesburg, Mississippi, area, Jones, director of the RAC and a Master of Divinity student at Southwestern, lived most of his life surrounded by sports and physical activity. This love for sports grew into a college athletics career at a division-I basketball program.
After graduating college fromthe University of Southern Mississippi, Jones served in the United States Navy, where he said he spent time in Newport, Rhode Island, and three years in Europe.
Following his naval career, Jones said that he and his wife, Allison, moved to Minnesota where he worked as a general contractor and home builder. The two moved to Florida to be closer to an ailing family member. While living in Florida, Jones worked several jobs in the sports industry including athletic director, basketball and baseball coach, and recreation director. Jones was diagnosed with cancer in 2017 and began wondering what would be next for his career.
"I had been told a lot that I should do ministry or that I should pastor," Jones recalled. "But of course, when you're young, you run away from God. But God is very patient, so after dealing with cancer for five years, I wound up at Southwestern."
After the Lord called him to attend Southwestern in 2018, Jones served in ministry relations helping churches. It was not until 2020 that Jones began serving at the RAC due to the shutdown brought on by the global pandemic.
"The administration just told me, 'Hey, you have a background in athletics. You go run the RAC,'" Jones said. "Things kind of struggled getting going because COVID was so different. We didn't know what to expect."
Since getting the RAC fully opened and operational again, Jones has implemented several activities and events for the Southwestern community, including creating plans to help students and faculty become fit.
"Jerome takes intentional care to connect with his team and the individuals that utilize the RAC," said Chandler Snyder, vice president of enrollment and student services and dean of students. "The people he gets to work with every day see his deep care for them and are eager to come to him for council on a variety of topics, which Jerome engages from the depth of his life experience and the preparation that he has received while being a student himself."
"The team at the RAC is constantly ready to see students connect through fitness and sports," Snyder said. "Through intramural events, family events, special fitness opportunities for families and kids, and the RAC facility, Jerome and his team work to serve the community."
Jones said physical fitness is important for future ministry opportunities.
"I want to help Christians on their fitness journey – not only starting, but also later on in life," Jones said. "I think that my focus is that if we take care of ourselves physically, I think it allows God to put us in places where our physical fitness doesn't become a hindrance."
One way Jones is helping people is by hiring personal trainers at the RAC to walk people through their fitness journeys. Jones said that he is looking for both a male and female trainer to come in to teach people how to work out well.
"I call it baby steps, you know? What we try to do is teach basic movements so that people don't injure themselves and be able to walk in and work out," Jones said.
While there are many things he can be doing with the RAC, Jones believes that the center's goals should be in line with the recently reaffirmed core values of the seminary.
"We've had a lot of meetings about aligning with the core values of the school as a whole," Jones said. "The first value is grace filled. So, we want to love people when they enter here — make them feel welcomed."
Jones said that he especially wants to emphasize the value of being student focused as "that is the biggest thing" and that everything done at the RAC is focused on the students, faculty, and staff.
Snyder emphasized the importance of the RAC to students both as they study and as they prepare for life after seminary.
"As dean of students, I understand the role that setting healthy rhythms for life is essential for long-term success as a student and in life," Snyder said. "As students utilize the RAC, they are setting life patterns that will see them succeed long-term. While students work out and study — yes, many do both at the same time — they are also able to connect with other students outside of the classroom."
Some of the ways Jones helps focus on the students of Southwestern are through the activities that are offered and sponsored through the RAC, including badminton, pickleball lessons, and intramural sports.
"We want to create programs and things where people will want to come in and that will touch our international community," Jones added. "We have added badminton and we had a pickleball intensive where we brought in a world-renowned pickleball guy who taught pickleball for us."
Jones said the table tennis intramural tournament in the spring of 2023 had over 25 students participate. He said that he wants to help students be physically engaged while they are at the seminary learning.
Jones sees his work at Southwestern as a ministry, not just as a job.
"God has given me a unique ministry where I get to interact with students who know me because I am a student as well," Jones said. "Not only do they get a chance to come in and work off from the stress, but people will just pop their head in my office and ask to talk about theological stuff."
He said that one of the highlights of this unique ministry was that he was asked to walk a student down the aisle at her wedding since her father was still in East Asia. Jones described the experience as "humbling."
Though the ministry is focused on the Southwestern community, Jones still finds ways to engage in evangelism when he has the chance.
"When I was told to witness to 10 people in my evangelism class, I used that as an opportunity to witness to a custodial worker in the building," Jones said. "I asked this woman if I could practice my class assignment on her, and from that encounter she accepted Christ in the very building I work in."
Jones anticipates graduating in December with a Master of Divinity and hopes to begin work toward a Doctor of Philosophy with a concentration in philosophy.