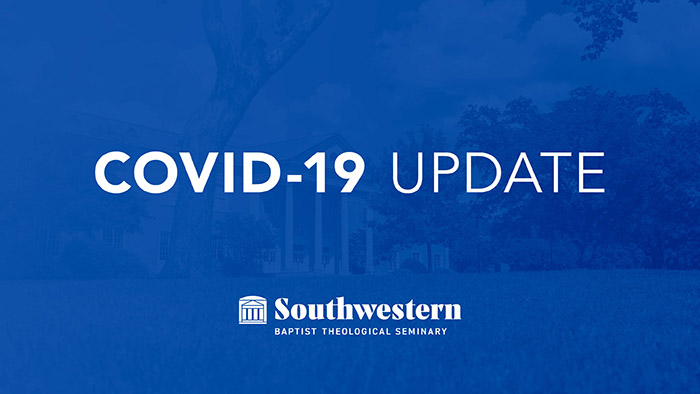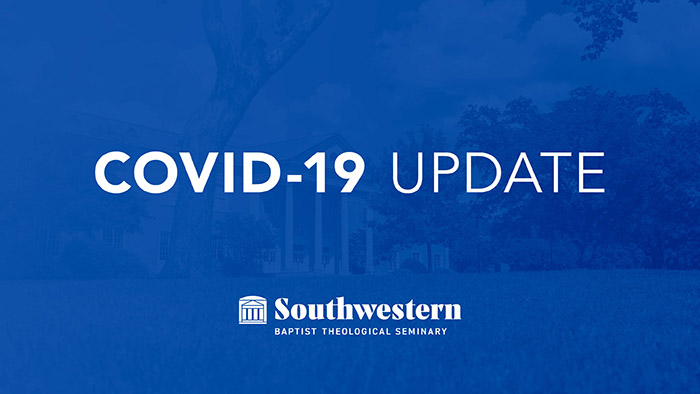 In order to limit any potential harm to the seminary community due to the novel coronavirus (COVID-19), the administration of The Southwestern Baptist Theological Seminary, in consultation with the officers of the seminary's Board of Trustees, is announcing today that this week's Spring Break will be extended through March 20. Effective March 23 through the remainder of the Spring semester, all courses will be delivered solely through the seminary's online platforms. All chapel services for the rest of the Spring semester are cancelled. All seminary-sponsored, on-campus events are cancelled through April 4. A decision about future campus events, including Spring Commencement, will be announced at a later date.
Although there are no known cases of coronavirus with any person associated with the seminary, there are several important developments that have led us to make these difficult, but necessary decisions:
the declaration of the World Health Organization that COVID-19 is now a pandemic;
the announcement yesterday that a resident of Fort Worth has tested positive for COVID-19;
consultation with local government officials and higher education leaders in Fort Worth;
our responsibility to do everything within our capacity to protect our students and the rest of the seminary community; and
the duty of the seminary to continue to be a good neighbor to the Fort Worth community that we love and have lived among since 1910.
Because our first concern must be for the safety of our students and the entire seminary community, we are requesting residents of Fort Worth Hall and Barnard Hall to vacate their rooms by March 20. Dorm residents with extenuating circumstances may request an exemption to this policy that would permit them to remain in the dorms. Other on-campus residents will be permitted to remain in their apartments and homes, while following Centers for Disease Control (CDC) recommendations concerning proper hygiene and cleaning regimens. Other campus services will continue normal operations unless otherwise announced.
Any person in the seminary community who presents symptoms that may be associated with COVID-19 are expected to follow CDC guidance, and are urged to notify the Campus Medical Clinic who can advise if testing is appropriate.
All staff are expected to continue their duties as assigned until otherwise notified.
I call upon the seminary community to pray earnestly for government officials in our community, state, nation, and the world as they work to protect their citizens. I also urge prayers for Southern Baptist churches and workers around the world who are ministering the eternal hope of the Gospel in the midst of the COVID-19 pandemic. May the Great Physician grant to all physical safety and may all find their ultimate hope in Jesus Christ.
Adam W. Greenway, president, The Southwestern Baptist Theological Seminary