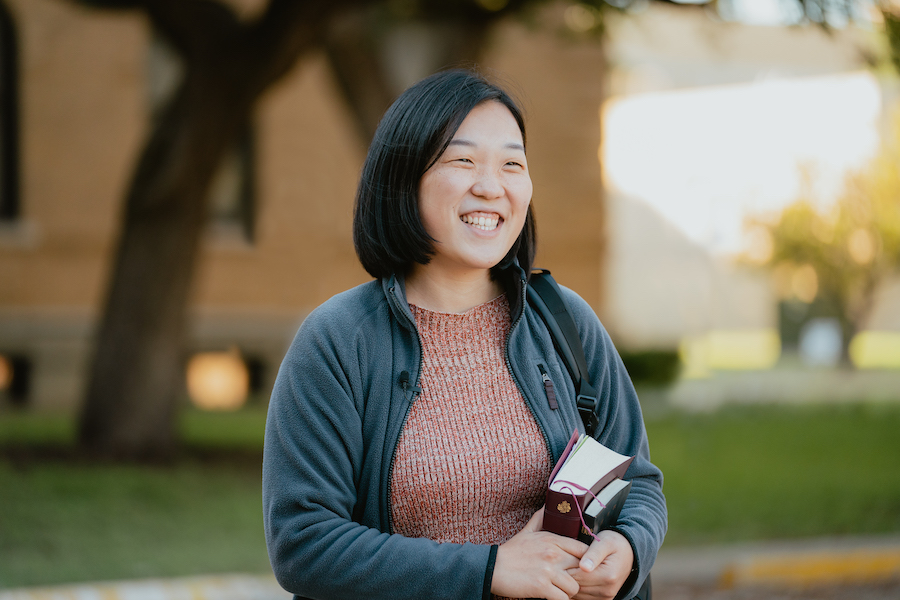 As an occupational therapist at a hospital in Japan who worked with children in her church, Anna Matsuura, a Master of Arts in Christian Education student at Southwestern Baptist Theological Seminary, knew she had a "medical understanding" of children, but she "didn't know how kids could grow in their faith."
Japanese churches are "so small" that only the children's ministry is "segmented," explained Matsuura, a native of Saitama, Japan, a city of 1.2 million people located northwest of Tokyo, the Asian nation's capital city. She was raised in a Christian home "even though [the] Christian population is so low in Japan."
Matsuura began to serve in her church after she came to faith in Christ and "through that I learned a lot" while in the "church, but I wanted to learn more," she explained. Her older sister, Yuri, graduated from Southwestern Seminary in 2019 with a Master of Music in church music and returned to her home country upon graduation to begin serving in their home church.
Upon her return, Matsuura explained her older sister imparted the lessons of life and study at Southwestern Seminary.
"She taught me how does it look like in my school life, and how God can provide all the needs and how He can grow us," Matsuura recalled, adding the lessons from her sister are how she came "to know about the school."
However, Matsuura, who had not seen her sister during the four years she studied at the Fort Worth-based institution, said "she changed a lot."
"That inspired me so much and she also challenged" Matsuura to take "the step of the faith to just dive into God's grace" because "He can do wonderful things in my life," she said. It was a "great encouragement for me," she added because her sister is a "spiritual model" for her and "seeing her growing in Christ and understanding of the Bible makes me feel like I want to be more like Jesus – like my sister" grew.
Matsuura began her studies at Southwestern Seminary in the fall of 2022. During her time of study, she said she has learned "lots of things," but the primary thing she has learned that she can apply to ministry in Japan is "how we can stand only in the Scripture of the Bible – the Word of God." Specifically, she would like to "emphasize" how believers "can study [the] Bible more how we can read the Bible more and also learn more about it."
The American church context is different than the Japanese church context, Matsuura explained, as she has seen how American churches have resources. She said she hopes to help "encourage the churches" in Japan even with "the small crafts" that are often used in children's ministry in the United States but are "not very accessible in Japan."
Aside from ministry-related lessons she has learned in classroom and church settings, Matsuura said she is also "learning that my individual spiritual growth can make [an] impact in local churches." She said that her "walk with the Lord itself would be a great impact" on church members because it might "show how God can change my life" because the same church members have watched her grow up. Matsuura added that while in the U.S. she has observed that many churches are "intercultural" with the representation of "many age groups" and "almost every street is a wonderful encouragement for me."
"I got encouraged by seeing how God can bless the churches to make an impact in my neighborhood and also in a community," Matsuura explained. "I hope that I can maybe share more to encourage local churches in Japan."
In addition to the impact the classroom has made on her ministry preparation, Matsuura said the Southwestern Seminary "community itself" is one that "can make an impact on a student's life." She said that she has an appreciation for sharing the Gospel at sites on Fridays, praying on Mondays and Wednesdays, and worshiping on Sunday nights, and seeing professors at the various opportunities.
Matsuura also said she also "appreciates the intercultural diversity" on the campus as the international students "are supporting each other no matter where they came from."
"I am blessed through this community," she concluded.