Medical doctor follows God's call to higher education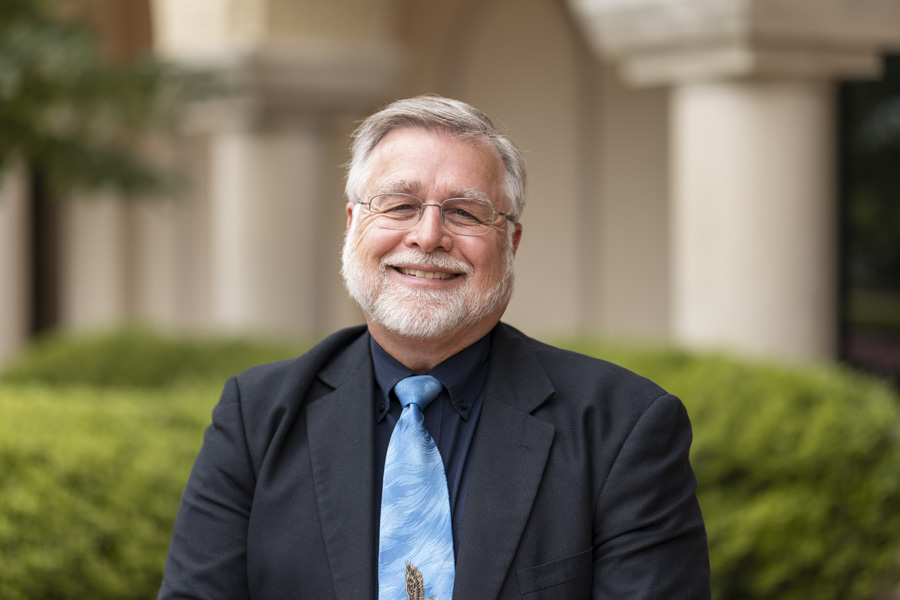 Changing a career path can be unnerving for anyone going through it. One must go through the process with courage and with a clear path in mind. Without this clear path, one can quickly give up on the transition. For William "Bill" Henry, a medical doctor, changing a career path was the only option that made sense when early this year this medical professional passed his Doctor of Philosophy dissertation defense at Southwestern Baptist Theological Seminary, where he will graduate from May 5 during spring commencement exercises.
Growing up as a military child, Henry learned about Jesus through the military chaplain that was serving at the various bases his father was stationed. He spent a large portion of his childhood in Washington D.C. during the 1970s. While there, he was exposed to the ministry of the Fellowship of Christian Athletes. "I heard the Gospel" during the Jesus movement, said Henry. Even though he heard it, he explained he "didn't understand salvation."
All of that changed for Henry on February 4, 1974, when he received Jesus Christ as his personal Lord and Savior. This occurred at one of the FCA meetings that he had been attending. Henry credits the leader for explaining the Gospel "plainly" to help make him realize that he needed to "repent of his sin and accept Jesus as my personal Lord and Savior."
After giving his life to Christ, Henry surrendered to the Lord's call on his life to ministry. "I was able to pastor about nine churches until about my late 20s," said Henry. During his ministry, he began to feel a change in his calling. Henry said that he wanted to "serve the Lord in a holistic fashion" and described this change as wanting to "add medicine to ministry."
Henry enrolled in the University of Arkansas for Medical Sciences and became a medical doctor in 1993. He had already gained some theological education while based in Little Rock, Arkansas, and he was still involved in ministry the entire time. According to Henry, he was "commuting back and forth" to the different churches where he was involved.
In 2010, he felt God leading him to make a slight change to his career path again. He decided to begin working on a Master of Arts in Theology degree with an emphasis on biblical languages at Southwestern Seminary. "I needed more understanding of the tools of biblical interpretation," said Henry. "As I did my personal study, I was lacking in some tools for good biblical interpretation." In 2015, he graduated with his master's degree and felt God leading him to pursue a Doctor of Philosophy.
During his time in the Ph.D. program at Southwestern, Henry encountered many professors who helped shape his knowledge in the area of biblical studies. Every professor he has connected with has been "five-star quality," he said. They were able to help him with "whatever need that I had at the time."
Professor Terry L. Wilder, formerly associate dean of Ph.D. programs who currently serves as professor of New Testament and Greek at Campbellsville University, was Henry's Ph.D. supervisor. Wilder recalled how Henry would "often comment" to him about the wonder of what it "will be like at death because we will be greeted into heaven by the presence of Jesus Himself." Wilder also said that "Henry's dissertation challenges traditionally held views concerning the interpretation of Hebrews 9:27-28," which is why he was intrigued from the beginning with his dissertation topic.
In addition to commending him as a "dedicated and conscientious student," Wilder said that Henry is in a "unique position" as both a medical doctor and minister making him "well-equipped to minister to the physical and spiritual needs of people." He recalled a time when Henry personally treated him for a "serious infection that was getting worse" during an academic conference. "I count it a privilege that he is my friend."
Jim Wicker, professor of New Testament, was on Henry's dissertation defense committee. Wicker believes that "Bill Henry is an inspiring example of a student." He noted that many people "in his situation would have been comfortable to retire," but Henry is "committed to faithfully serve God in a new chapter in life."
While writing a dissertation is no easy feat, Wicker said that Henry's "inclination to dig deeply into an issue," which comes from his medical background, "is evident in his very detailed dissertation." Henry's background in various areas of deep study has proven to be quite helpful in the composition of his doctoral dissertation.
Even though there were times when he felt "a little bored," Henry was able to gain more interest in his New Testament studies through learning more about the Old Testament. He believes that all of his studies have "contributed each part that was necessary for a better understanding of Scripture." While there can be any number of issues when working on a Ph.D. degree, Henry still holds to the fact that he has "no complaints" about the faculty and staff that have gotten him to the place he is.
Through his three years of seminars and working with his doctoral advisor to fine-tune his research topic for his dissertation, Henry ultimately landed on the book of Hebrews and the "issue of atonement and the present ministry of Christ." He explained he knows that atonement has been "an issue in Hebrews for about 10 to 15 years," but he wanted to address what he believed to be a biblical answer to the issue.
During the composition of his dissertation, Henry has been able to attend "most of the Evangelical Theological Society meetings" over the past 10 years. Through these meetings, he was able to address the different issues people found in the book of Hebrews on the topic of Jesus's atonement. His goal was to ultimately "add to that conversation," and let those conversations guide his research.
As with many people who strive for a Ph.D., Henry feels called to teach at a high level. He has been in ministry for "about 47 years," and he would like to continue in his call in that area. He would like to "share some experiences" with students "both from a medical standpoint and from a theological standpoint." He desires to help "young pastors, or even seasoned pastors, to better accomplish our mission."
Speaking on his future after graduation, Henry indicated that he would like to follow the will of God but hopes this would lead to teaching at the seminary level. "I'll do whatever the Lord wants to do, but I'm probably better geared as a geek," said Henry. He would like to "teach at a higher level," but does not "object to taking the language and the format down to a simpler level."
Henry has been through many years of school, but he has worked through them with a smile on his face. He said that he "wouldn't hesitate" to help counsel someone who feels called to ministry that God will "put things into place for them to succeed in their ministry." Henry believes that if God calls you to something, "He will provide for you."