Morris connects with students drawing from pastoral, overseas experiences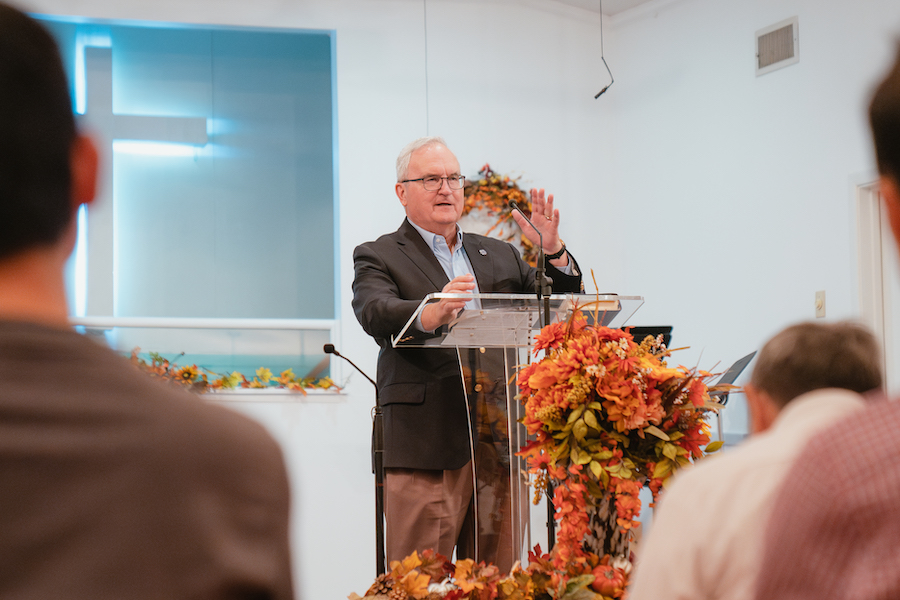 In 1987 when Mike Morris, senior professor of missions at Southwestern Baptist Theological Seminary, and his wife, Grace, attended the Southern Baptist Convention annual meeting in St. Louis, Missouri, then-president of the International Mission Board Keith Parks challenged messengers "who were open to missions" to complete an interest card, he recalled.
"I thought, 'Well, everybody should be open to missions'," said Morris who was pastoring First Baptist Church of Wickliffe, Kentucky, at the time. While Morris remembered that a representative from the IMB would "call about once a year and ask if we thought seriously about becoming missionaries," it was not until he served at the Kentucky church for eight and a half years that he began to sense the Lord was leading his family to serve overseas.
Morris and his family were commissioned in his hometown of Memphis, Tennessee, in December 1995. Morris said he had been studying Spanish as he and his family were "going to go to Argentina." However, following the IMB's candidate conference, Morris said the mission agency contacted him and said, "Mike, we don't think you'll fit in South America."
"At the time my two sons and I were studying taekwondo from a Korean man and we really liked the culture," Morris recounted. He explained one of the job requests the IMB sent as updated options for missions service was for South Korea and "it just kind of clicked."
After arriving in South Korea in March 1996, Morris and his family spent the next decade ministering in the East Asian nation. He began as a general evangelist, which included language training and helping various small churches. Following a stateside assignment, he served as the team leader over church planting, which was one of the four teams the IMB had serving in South Korea. Morris's team oversaw the work in the easternmost part of South Korea.
Morris returned to the United States in 2007 to serve as the pastor of Macon First Baptist Church in Williston, Tennessee, before he was called to serve as associate professor of missions at Southwestern Seminary in 2010.
Morris was not unfamiliar with the Fort Worth institution. Following a call to ministry, he began as a Master of Divinity student in 1980 and graduated in 1983.
Using his experiences from his time as a missionary, as well as from pastorates in Texas, Arizona, Tennessee, and Kentucky, Morris said he relates to the "two different groups of students" he sees at Southwestern: those who were raised in the United States and the international students on Seminary Hill.
He believes the students who grew up in the U.S. "have a certain mindset" and "certain cultural awareness." Morris observed while some of the students "have never been overseas" others have visited other nations on short-term mission trips. Morris said with this group of students "the fact that I'd actually served, and I could share human interest stories and experiences from what happened was valuable." He added that some of the students who are from the U.S. have "never dealt" with Buddhists, Mormons, Jehovah's Witnesses, and "all those different groups." He explained that in America, the same people are "here, but you just don't see them that often."
Morris said as he interacted with the international students the "fact that I had served overseas helped them identify with me." He explained that Americans are often "totally isolated much of the time." Morris noted during his time serving in South Korea things were "much more group-oriented" as people can walk to get to places or rely on public transportation "if you have to go any distance." The experience forced him to be around other people, which he said is different than the U.S. where "you're not around other people very much at all."
"I think our international students who have come from other places, appreciate the fact that I've experienced other places," he noted, adding that "When you've served overseas for a good length of time, it changes you" and the international students "appreciate the fact that I've experienced another culture and have been changed by it and understand where they've come from."
In addition to teaching part-time at Southwestern, Morris serves as the senior pastor of Stadium Drive Baptist Church which is located near Seminary Hill. It is through Morris's influence as her pastor that Evelyn Yi*, a Master of Divinity student from East Asia, has had the opportunity to learn from Morris.
Yi began attending Stadium Drive when she began as a student at Southwestern in the fall of 2022. She said the reason she became a member of the church is because Morris is "a very good pastor." She explained at the small church Morris serves in many areas in addition to preaching – even down to taking out the trash – and she was "so wowed by that because many times I feel like, you know, somebody else should do that."
Fostering an environment that lends itself to community and fellowship is another aspect Yi has seen in Morris as he has led Stadium Drive.
"Whenever we suggest, 'Let's have a picnic,' he never says, 'no,'" Yi observed. "For me, when I am busy, I would say 'no' to things. But you never see him say 'no.'"
Yi added that Morris "always has time" to help the seminary students and their families who are a part of the church – whether it is providing needed information for class assignments or assisting the daughter of an international student who is applying for college.
"He's just a very people person," Yi said. "He's just very other-centered."
Morris said there is "a legacy" at Southwestern as more IMB missionaries have graduated from Seminary Hill "than any other place." He added that he does not "think that's a coincidence" but the institution has "a wonderful legacy."
"I feel very blessed that I was offered a spot here because there are a lot of people more qualified than I am," Morris concluded. "But it's just been an honor to be here."
*Name changed for security.