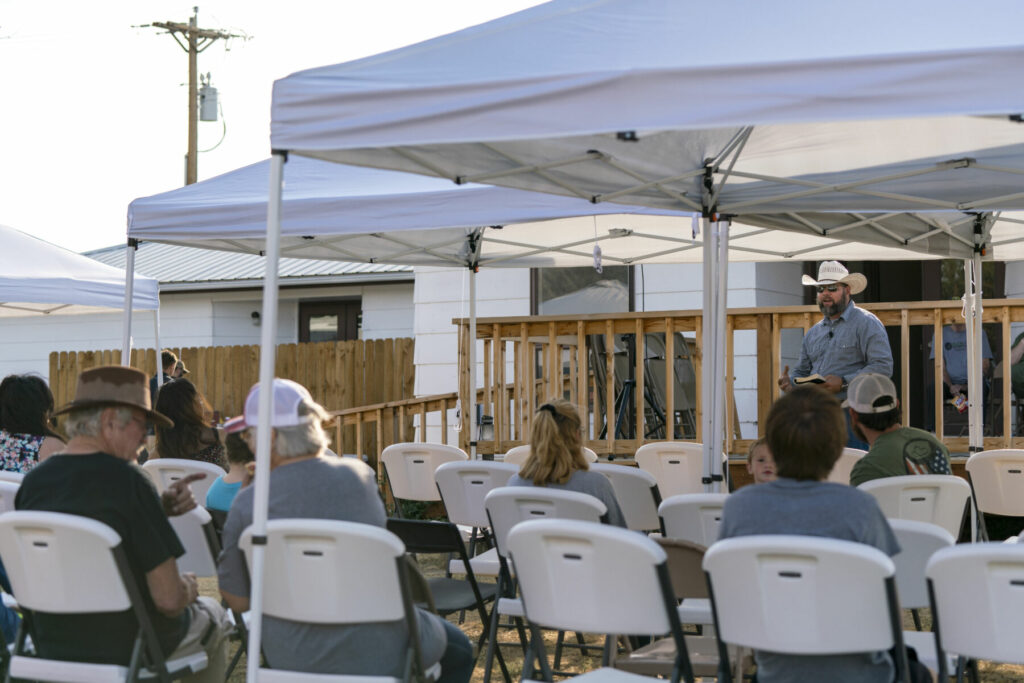 This past Spring Break, I traveled to Cameron, West Virginia, to preach at the revival services at Cameron Baptist Church. I didn't know what Revive the Nation (RTN) was when I signed up, only that some of the weeks of preparation would include and be centered around sermon preparation, something I needed. Originally, I saw this class as a way to find some guidance in my sermon preparation until I could take my Greek classes and then preaching classes. While RTN helped me in that, it was so much more than I originally thought. RTN was an opportunity to see the Lord work through me in the lives of people I may never meet again, although, I do hope to return to Cameron Baptist Church in the future.
Preparation
The preparation for this course began before the spring 2023 semester started, as each of the participants began to pray for themselves and the congregations they would be preaching to, even before we knew where we would be. Once the semester started, we received our church names and began to pray for our specific churches by name. However, the preparation for RTN was not only done by the Southwestern Baptist Theological Seminary students. The congregation at Cameron Baptist Church began to prepare themselves for their revival preacher to come and for the Holy Spirit to move in their church. Every day from January to March members of the church were faithful to spend time at the church in prayer for the revival. Their preparation was as important as the training I received with Dr. Matt Queen and other guest lecturers.
The training I and other participants received in the eight weeks leading up to the revival was extremely helpful and beneficial. We began every class on our knees in prayer, asking God to work through us and in spite of us, asking that God would overcome our weaknesses and that we would be used for His glory while we were at our respective churches. This showed me the value of prayer and the priority it should take in my sermon preparation. It challenged me to commit myself to a deeper prayer life in all areas, but especially in preaching and teaching the Word of God. Prayer was a huge part of this course, and I believe that was one of the reasons the Lord was so faithful to work in and through the RTN participants.
After spending time in prayer, the rest of the class was dedicated to answering different questions in preaching, such as "How do I decide what to preach?" "How do I decide where to begin and end?" "How do you determine the structure and outline of a message?" and "How do you preach different genres of Scripture?" These were questions I had coming into this class, and Dr. Queen was faithful and diligent to equip each participant to answer these questions.
Cameron Baptist Church
My time in Cameron, West Virginia, was filled with stories – stories being shared and stories that will be shared. The trip started with a 16-hour day and me realizing my "warm clothes" were not warm enough. I left Southwestern at 5:30 a.m. and arrived at my host home at 2:00 a.m., the night before my first sermon at the church. On that 16-hour day, I was able to meet some of the members of the church and attend a Matthew West concert with them.
When Sunday morning came around, I did not want to get up. I was tired, cold, and nervous to be in the pulpit. I was in an unfamiliar area with people I did not know and I had only gotten a few hours of sleep. God was forcing me to rely completely on Him. I didn't have the luxury of the congregation watching me grow up or knowing about my life, but I remembered something Dr. Queen said to us repeatedly, "God is going before you, He will be there with you, and He is going to be there after you're gone." This encouraged me and reminded me of why I was there and Who was empowering me. Before each of the five sermons I spent time in prayer on my knees, just as we had done at Southwestern, and I had others in Texas spending time in prayer for me while I was preaching. God was gracious enough to call 10 people, from young children to older adults, to Him while I was there.
Outside of the preaching ministry and the movement of the Spirit calling people to Christ, I also go to witness and be a part of life on a pig farm. My hosts, Greg and Maggie, have a pig farm, and they allowed me to help out on the farm during the day before preaching at night! We ground feed, named newborn calves, bottle-fed calves, and scooped pig droppings. I wasn't expecting to enjoy it as much as I did, but Greg and I had a great time getting to work out there and getting to know one another. When we got back from the church at night, Greg and I would sit in the kitchen, lose track of time, and go to bed entirely too late, but getting to hear his stories was such an encouragement to me.
 Last Thoughts
Revive the Nation was an incredible opportunity and experience for me to grow in my preaching and reliance on the Lord. In our preparation, Dr. Queen prepared me not just for a revival, but for a lifetime of ministry, for which I am extremely thankful. I believe the RTN program is something every SWBTS student should consider participating in, and, for the first time, all students have that opportunity. In the past, RTN was only offered to males who would go preach in churches, but SWBTS has now created an opportunity for women to participate in the furtherance of the Gospel through RTN. I would highly recommend the RTN program. The Lord is working through RTN the change the eternity of people all over the country.
David "Trey" Cole is a Master of Divinity student at Southwestern Seminary. He is also the ministry assistant to college and young adults at Matthew Road Baptist Church in Grand Prairie, Texas.