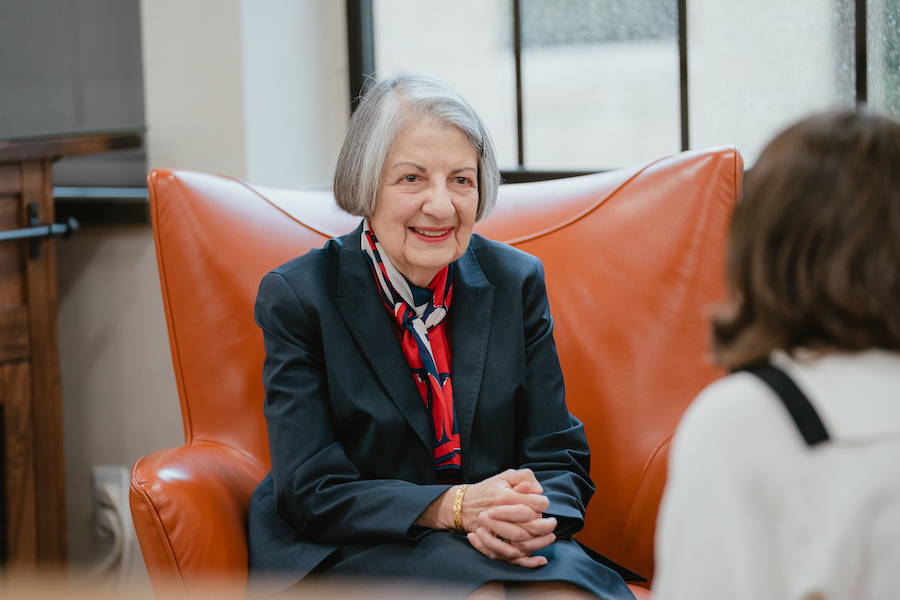 "I told God I would do it if that is what He wanted."
To hear Rebekah Naylor recount God's work in her life is to hear a testimony of a lifetime of obedience. The petite medical doctor who surrendered to a call to missions as a teenager culminated a 50-year career with the International Mission Board at the beginning of October.
Naylor, who is the first female distinguished professor in the history of Southwestern Baptist Theological Seminary and is the institution's permanent missionary-in-residence, told the more than 2,000 attendees at the IMB dinner at the Southern Baptist Convention in New Orleans in June, "It's a privilege to serve. I can certainly testify that God keeps promises and joy comes in obedience." The succinct, but heartfelt, remarks were in response to Naylor being honored for a half-century of service with the mission agency and the announcement of the Dr. Rebekah Naylor Fund for Global Healthcare Strategies.
However, as Naylor recounted her own story, she explained she "had no clue" about medicine when she became interested in the field as a 13-year-old. Naylor, the youngest child and only daughter of Robert and Goldia Naylor, Southwestern's fifth president and his wife, grew up in a pastor's home and was led to faith in Christ by her parents when she was five years old.
Naylor, who was born in Arkadelphia, Arkansas, and relocated to Fort Worth as an eight-year-old, remembered that missionaries visited Travis Avenue Baptist Church, where her father was pastor, to speak during a Lottie Moon Week of Prayer for Foreign Missions.
"At that point, foreign missions became something personal for me," Naylor recalled. "It was not something I could even imagine that I could do, because it seemed too big and it meant leaving home."
Naylor said for the next 18 months she "continued to think and never told my parents" as she considered a call to missions.
"After 18 months, I realized it was not going away," Naylor remembered. "And I told God I would do it if that's what He wanted and immediately all the angst – unsettledness – of the previous months was gone."
Walking in obedience, Naylor enrolled as an undergraduate student at Baylor University in Waco, Texas, and majored in chemistry. She graduated in 1964 magna cum laude and also earned the Premedical Student of the Year award. Naylor enrolled in Vanderbilt University School of Medicine in Nashville, Tennessee, later that fall. As she explained, the Lord led her to the specialization of surgery.
During the summer between her third and fourth years as a medical student, Naylor spent the summer months working at the Bangkla Baptist Hospital in Thailand, which still exists today. With no "prior" interest in surgery "at all," she spent her summer working with a surgical missionary who allowed the young medical student to "help him a lot in the operating room," she recalled. The result was that Naylor decided to pursue surgery – "and this was the 1960s. Women did not go into surgery," she added.
After graduating from Vanderbilt, Naylor spent five years of surgical training at Parkland Memorial Hospital in Dallas. Approximately ten months after completing her surgical training, seminary requirements, and orientation with what is now known as the IMB, Naylor departed for Bangalore, India, where she would spend the next 35 years using her role as a surgeon at Bangalore Baptist Hospital to share the Gospel and help plant churches.
Naylor said she "knew the main purpose" of being a missionary "was telling people about Jesus and it seemed to me you did that no matter what your profession was. So, medicine was just what God told me to do."
While Naylor's primary role was as a physician at the hospital, which included surgery, gynecology and obstetrics, as well as eventually becoming the chief executive officer of the facility, she said she was also "engaged in teaching, initially, informally, more one-on-one in small group training." However, when "formal academic programs" began in the 1990s, Naylor recalled she was "involved in church planting ministries from the beginning." In this capacity, she worked with Indian pastors and evangelists as they "followed up" with patients who were treated at the hospital and heard about Jesus. She added that "eventually" believers were baptized as the pastors began to congregate their churches.
Additionally, Naylor "did a lot of discipleship ministry with young professionals, Bible studies, discipling them to equip them to be witnesses, to be strong in their faith, and sharing their faith actively day-to-day," she explained.
In 2008, Naylor began leading the health strategy work for the IMB, which "included mobilizing students and professionals to advocating for field personnel to developing health care strategies globally," which she noted was "the full expanse of medical missions."
The IMB reports the result of Naylor's efforts and diligence in bringing attention to medical missions is more healthcare missionaries presently than at any other time in the board's history.
Since 2020, after being named to the faculty of Southwestern Seminary, Naylor has invested in the next generation of mission workers. She said the opportunity to serve at the same place her father and mother invested two decades of their lives and ministries "couldn't be more appropriate and more gratifying."
Recalling her family's history with the seminary, Naylor said, "The fact that now at this stage of life that I have this opportunity to, you know, invest in students to continue to give to the institution, it's just a great privilege."
Primarily, Naylor teaches the course Human Needs Ministries in Church Planting, which allows her to show "the biblical basis of human needs ministries in Scripture, how all through Scripture we are instructed to care for people, and Jesus, of course, healed." Through the course curriculum, she also talks "about practical things like refugees and disasters and trafficked people, poverty," how the local church in the United States meets needs, and "of course, healthcare."
"My whole career has been spent meeting needs and planting churches," Naylor noted. "I know firsthand that it's totally integrated," adding that within "every part of the missionary task, it's important that we care for needs" and "this knowledge and experience is really the basis of what I have to share in this course."
Outside of the classroom, Naylor talks with students from her "own experience of faith, of what it means to follow Jesus, of what it means to be obedient to His direction, of what it means to work cross-culturally, of what it means to persevere in adversity, [and] of what it means to invest in people."
Though Naylor has books written about her, including the 2008 biography Rebekah Ann Naylor, M.D: Missionary Surgeon in Changing Times and a children's book Rebekah: An American Surgeon in India, and has received numerous accolades, including the 1994 Distinguished Alumni Award at Southwestern Seminary and the 2022 Pro Ecclesia Medal of Service from Baylor University, it is every day people walking in obedience who inspire her.
Naylor cited her parents as providing her with "basic inspiration and knowledge" and others whom she has met at different stages of her life, including a missionary doctor she met before leaving for the mission field, a friend who served on a church staff who taught her about "personal evangelism and modeled it," people who have prayed for her during her ministry, and pastors in India who "really pastored me."
However, Naylor's own walk of obedience to the Lord runs as a thread throughout her life.
Expounding on the comments she made at the IMB dinner in June, Naylor explained that while joy comes in seeing answers to prayer, God's promises fulfilled, and in "the privilege of serving," she believes "the real source of joy is our obedience."
"If we do not obey what God intends for us to do, I don't think we can know that joy to its full," Naylor concludes. "Jesus is the model who 'for the joy that was set before Him endured the cross.' So, joy comes in obedience and the obedience has to be complete. It can't be partway. You either do or you don't."
*Some photos were provided by the International Mission Board.