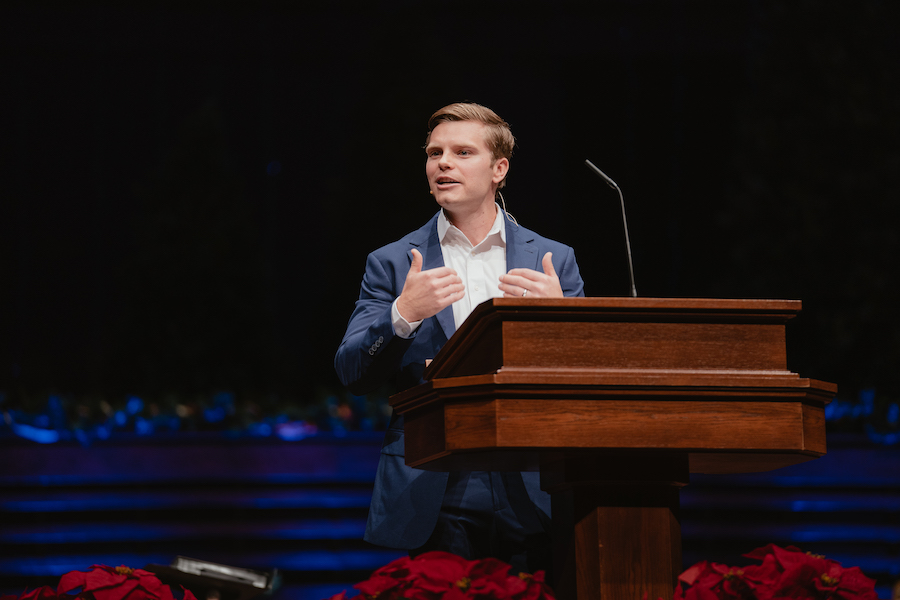 Rejoice in the Lord, pray without ceasing, and give thanks always preached Nathaniel Nicholson, a Master of Divinity student at Southwestern Seminary, during his Nov. 16 chapel message at the Fort Worth institution.
In his introduction of Nicholson, Matthew McKellar, professor of preaching and the George W. Truett Chair of Ministry, expressed his excitement for one of his former students.
"I had the privilege of having Nate in one of my preaching classes," McKellar said. "I have gotten to know him and spent time with him. We're so excited to see our graduates go to school here, move on from here, and serve the Lord where He has placed them."
Nicholson preached from 1 Thessalonians 5:16-18. He provided context to the passage of Scripture as he noted it is at the end of the letter of 1 Thessalonians and Paul presented multiple exhortations.
"In verses 12-15, he gives commands about how do we relate with one another as believers," Nicholson presented. "It's our horizontal relationships. Then our text for [this chapel message], he switches to our vertical relationship with God. What does life and communion with God look like? He says it should look like rejoicing always, praying without ceasing, and giving thanks in all circumstances."
Nicholson stated that while this is part of the will of God for Christians "sometimes, our lives look very opposite of these things that we are commanded in the Word of God."
"I think it would be truer of us that we are more stressed over rejoicing," Nicholson stated. "As busyness and stress arise, I think prayer is often one of the first things we cut. If we were to track our words or internal dialogue, I don't think thanksgiving would be the thing that would mark our vocabulary or our thoughts. If we're honest, I think it would look a whole lot more like complaining."
Nicholson said humans allow circumstances to control and dominate their lives.
"As our circumstances get bigger, our view of God gets smaller," he claimed.
Nicholson reminded the audience of the Gospel.
"Despite knowing we were going to be messy, He came to the Cross to die for our sins," Nicholson proclaimed. "He looked at you and me and said, 'I want them in My family.' Not only does He clothe us in righteousness, but He justifies us so that we are just as Christ is. Don't forget the Gospel. Preach the Gospel to yourself every single day."
To understand what the Word of God teaches Christians, Nicholson said it is important to know the difference between happiness and joy.
"Even if you go on and Google 'happiness,' it would show you that happiness is based on your circumstances," Nicholson opined. "Joy defies your circumstances. Joy is something that happens regardless of what's going on in your life, and as the Bible teaches us, it's because joy is found in our triune God."
Nicholson did not negate those who suffer.
"I don't think this text is telling us to bypass grief, to put on a smiling face and tell everyone that everything is just fine." he explained. "Even if that is where you're at today, we have to remember that joy is found in a person. Even on the darkest of days, there's an empty cross and there's an empty tomb. We can be a people of joy."
He implored the audience to trust in a sovereign God, in accordance with verse 16 of the passage of Scripture.
"Trust in the fact that God is working all things together for His glory and that Christ has risen from the grave," Nicholson proclaimed. "Trust in our sovereign God allows us to rejoice always."
Nicholson took a deeper look into verse 17 and the meaning of praying without ceasing.
"It is developing a rhythm of abiding and being with Jesus where we are constantly inviting the Lord into our day," he clarified. "We must have these appointments in our calendar, where it is just you and Jesus, throughout your day."
Nicholson suggested to invite the Lord into one's life during transitions in the day, while eating or driving, as a reminder that God is present. Nicholson then referenced verse 18 and thanksgiving.
"Golf takes practice," he used as an example. "If you want to be like Tiger Woods, you've to go and put the practice in. I think thanksgiving is in the same way. We're surrounded by this complaining culture. If we want to cultivate a heart of thanksgiving, we have to practice thanksgiving."
In closing, Nicholson implored Christians to be a people that reflect a big God.
"We live in a dark world," he said. "As we embody these things of rejoicing, giving thanks, and praying without ceasing, we will be salt and a light in this really dark world."
In 2016, Nicholson graduated from Abilene Christian University. Nicholson is set to graduate from Southwestern Seminary in Spring 2024. He serves as Next Generation Pastor at Riverpoint Church in Fort Worth. He is married to Pauline and they live in Fort Worth.
Nicholson's entire message can be viewed here.
Chapel is held every Tuesday and Thursday morning at 10 a.m. (CT) in MacGorman Chapel on the campus of Southwestern Seminary and TBC. Chapel may be viewed live at swbts.live.