'Not to us': Crider implores Southwestern community to give God glory over self-glory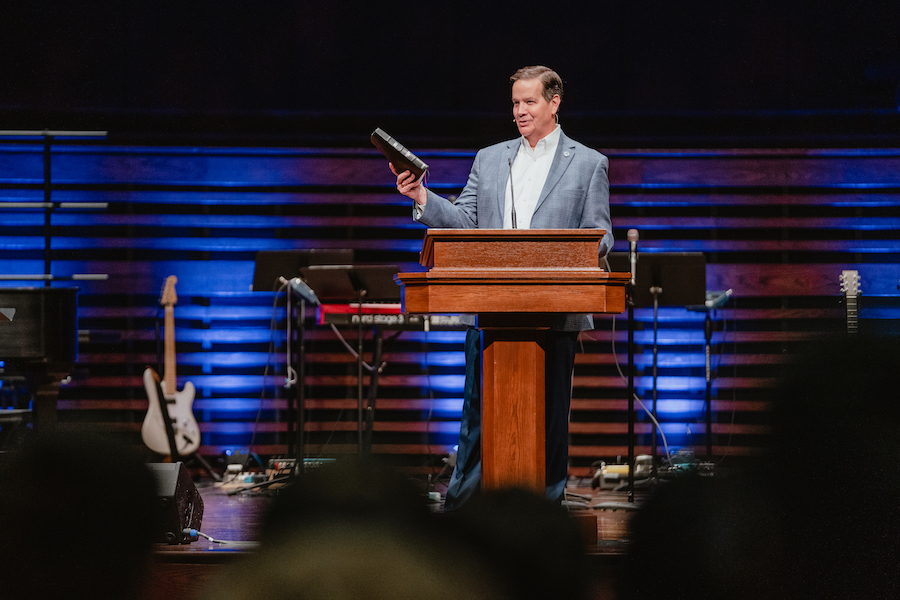 Strive to put down one's visibility and give God the glory He deserves, preached Joseph Crider, dean of the School of Church Music and Worship at Southwestern Baptist Theological Seminary, during his Aug. 31 chapel message at the Fort Worth institution.
In his introduction of Crider, President David S. Dockery described Crider and his wife, Amy Crider, associate professor of foundations of education and director of the Southwestern Center for Writing and Rhetoric, as great gifts to the Southwestern community.
"They have invested deeply in students and colleagues in the work of this place," Dockery said. "What Shohei Ohtani is to Major League Baseball, who can both pitch and hit, Dr. Crider is that double threat here on this campus. We are grateful to God for them."
Cider preached from Psalm 115:1-13 with a prayer "to be encouraged as individuals to spend more time in Psalms and soaking them up." Crider, quoted from Athanasius, that among from the Psalter, one can learn about their self.
"As we look back in history, the early church fathers expressed their reliance for growth and spiritual maturity in Christ through the Psalms," Crider said.
Introducing the passage of Scripture, starting with the opening phrase of verse 1, Crider explained how historical figures and countless others invoked the plea of "not to us, O Lord," Citing  Shakespeare's Henry V play and William Wilberforce to the Britain Parliament during the debate on the bill to abolish the slave trade.
"I think they saw the absolute necessity of intentionally and continually giving glory to God because they knew their own propensity to steal God's glory for themselves," Crider expressed. "And the phrase, 'not to us, O Lord, not to us,' is like a repeated cry for help that all of us need to practice."
Crider said sometimes Christians use God as a way of pointing to themselves, making themselves visible to others, rather than God "using us to point others to Him in turn making Him visible."
"It's tempting isn't," Crider questioned, "to use our spirituality, to use our spiritual talk about God to want people to think more highly of us? We are not the point. We are the pointers."
Crider warned that those who are spiritual leaders or spiritual leaders in training, of all people, "need to pray those words most fervently, 'not us, O Lord, not us.'"
"It is so frighteningly simple for us to lust after glory for ourselves," Crider stated, "because you and I, at our core, are glory-seekers. In fact, we probably have a propensity to be glory-stealers."
Crider explained what happens when this prayer is not prayed using an example of Moses in Numbers 20 when his congregation thirsted. After asking God for guidance and being instructed to speak to the rock, Moses expressed the phrase, "Listen you rebels, must we bring water out of this rock for you?'" Crider noted then Moses stuck the rock twice and received glory for the water's flow. This displeased God for not trusting in Him and Moses was not able to lead his people into the Promised Land, he added.
Crider said a desire for constant glory will lead to a destructive path.
"It will either wear you out, and you will be sidelined like Moses," Crider explained. "Or you and I will end up thinking we deserve the glory, and we're somehow entitled to it. When God gets the glory, that only He deserves, we get the blessing."
Crider pointed out how verse 1 ends, as he stated, "We can't succeed unless God shows Himself to us." He said that is revealed in the next phrase of the verse by God's faithful love and truth.
"The psalmist has experienced God's character, and he pens this poem as a response to who God is," Crider expressed. "That helps us define what worship is. Worship is our response to God. Our access to God doesn't come through a magical guitar lick or a great choir. Our access to God is through Christ, and it's a response to Him."
Moving to verse 2, Crider said the enemy tries to undermine and question who God is.
"How does the psalmist respond to the question, 'Where is your God'"? he asked. "He writes, 'Our God is in heaven, and He does whatever He pleases.'"
Over the next several verses, Crider explained how believers may be tempted to breathe a little easier because the psalmist moves away from the "propensity for glory-seeking and points the attention to the destructive worship of worthless idols associated with pagan nations around Israel."
"Like many in the Old Testament where we may have a tendency to take a haughty look back in history on the poor, uninformed, disobedient, fickle nation of Israel and her surrounding pagan nations, we realize that we can be just as guilty of worshiping something other than Christ," he said.
From verse 4, Crider posed a question to the congregation, "Do you worship with your hands?" Crider stated the idol of work keeps demanding more.
"But our God is not made of silver and gold, the work of man's hands," Crider said. "The God of heaven came down, and He did not come to be served, but to serve. God commands not work for His love and favor. Christ accomplished that work on the Cross. But He said trust in His Son."
From the succeeding  passage, Crider said God speaks through His Word, adding God sees people, feels compassion for them, and hears their pleas.
"We resemble what we revere," Crider said. "Brothers and sisters, may it be Jesus who our hearts revere."
Citing verses 12 and 13, Crider stated that the Lord "remembers us and blesses us."
"Moses trusted in his own strength, rather than in the Lord's, and endured heartbreak because of his pride," he observed. "And yet here in verses 12 and 13, we see that even though Moses forgot about God, God remembers Moses. And we know in the end, Moses's story."
In closing, Crider encouraged the congregation to trust in the Lord for "He is our help and shield."
Crider has served as the dean of the School of Church Music and Worship since 2019. He was elected the 2024 music director for the Southern Baptist Convention annual meeting to be held in Indianapolis, Indiana. Crider holds a Bachelor of Music and Master of Arts in Performance both from Bowling Green State University, and a Doctor of Arts in Performance and Pedagogy from the University of Northern Colorado. He has previously taught at Southern Baptist Theological Seminary, Liberty University, Southwest Baptist University, and Westmont College. Crider is the author of Scripture-Guided Worship (Seminary Hill Press, 2021).
Crider's entire message can be viewed here.
Chapel is held every Tuesday and Thursday morning at 10 a.m. (CT) in MacGorman Chapel on the campus of Southwestern Seminary and TBC. Chapel may be viewed live at swbts.live.