Okinaga models discipleship to students, both in and out of the classroom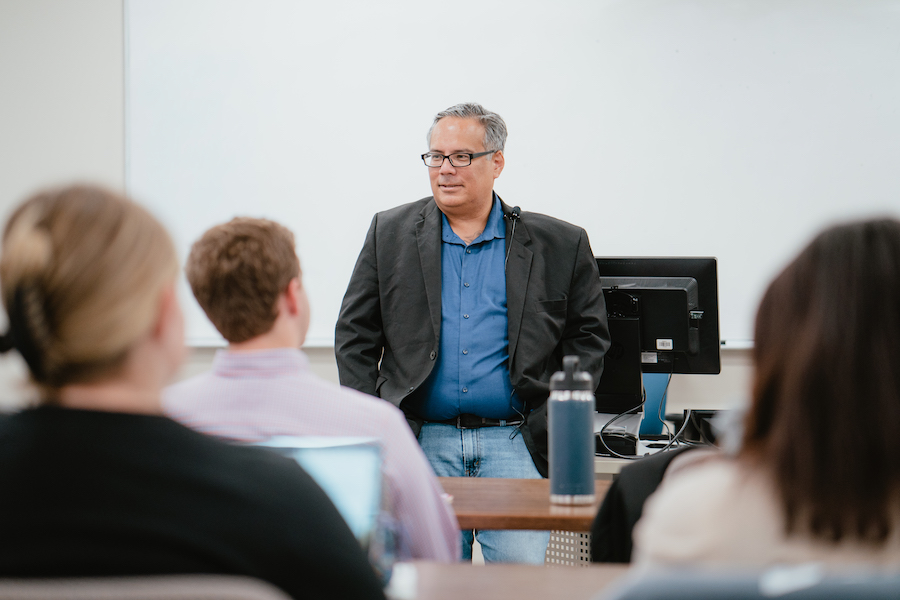 Having experience in the area one teaches in is important for providing accurate advice to those being taught. For Jonathan Okinaga, assistant professor of biblical counseling at Southwestern Baptist Theological Seminary, his counseling experiences allows his lectures to foster a lot of conversations in the classroom.
Okinaga was raised in the church throughout his formative years while living in Honolulu, Hawaii, where his grandfather assisted in starting the church where he and his family were members.
"My parents were always in church and they always brought me there with them," said Okinaga. "I came to know the Lord at age seven and continued in church and a Christian school all the way through high school."
Okinaga said that while he was involved in the church from a young age that did not stop him from having some rebellious acts as he grew older.
"After high school, I sort of stepped away from my faith," said Okinaga. "Really, I just enjoyed my college years a bit too much and my college years ran until I turned 30."
Okinaga said that when he was 30 years old he felt convicted of the way he was living his life and has "been on fire for Jesus for the last 16 years."
"After I got sober, I began to enjoy gardening," said Okinaga. "There was just something so beautiful about seeing something come to life, which reminded me of one's spiritual life, where if you neglect it, it's going to die."
He added that when someone puts time and effort into both a garden and their spiritual life, "You'll have a robust and alive garden and walk with the Lord."
After going to college in California at Vanguard University, Okinaga saw the brokenness that was present in the state. While at Southwestern Seminary pursuing his Doctor of Philosophy degree, Okinaga felt that he would move back to California and be a clinical director of a treatment facility for those struggling with drug and alcohol abuse.
"When I was doing my Ph.D., I was the only person in the cohort that did not raise their hand when the question was asked, 'Who wants to be a professor?'" said Okinaga. "I didn't really want to teach, but obviously, God had different plans. But I am so grateful and happy to invest in students."
Okinaga said that "it has been an absolute joy" to teach and invest in students while at Southwestern Seminary.
In the classroom, Okinaga enjoys a hybrid approach to teaching which combines lecture and conversation with the students to help solidify what they are learning.
"I like having the students ask questions and respond, but I also want to make sure they get all of the content," said Okinaga. "For our classes that meet twice a week, I usually do about an hour of lecture and then have 15 minutes set aside for a Q&A, but no matter what, I start every class with devotion and prayer."
Okinaga said that without opening class in prayer, he would not be modeling what it would be like to open a session as a biblical counselor.
"As a biblical counselor, if we're not opening our sessions with God's Word and we're not praying, then we're not doing biblical counseling," said Okinaga. "What we should be doing in any session is going to the Lord in prayer and spending time in His Word."
Okinaga added that he enjoys staying after class as long as is needed to answer any questions that students may not want to ask in front of other students.
He invests in students who are in his classroom, but also outside of the classroom as well.
"I do intensive discipleship groups for three guys where we meet every week," said Okinaga. "We go to lunch, we eat, we talk, we do active discipleship, and we even go over books together."
Okinaga said that he has been discipling this specific group of men since January and will continue through the full calendar year with them.
One member of his discipleship group, Christopher Yeates, a Master of Divinity student with a concentration in biblical counseling, appreciates Okinaga's hospitality.
"I love that Dr. Okinaga invites us to spend time with him outside of the classroom," said Yeates. "He is the same person in the classroom as he is outside of the classroom which makes it so easy to ask questions and approach him at any time."
Yeates added that he recommends Okinaga to other students.
"I look forward to many MDiv classes with him," said Yeates, adding he also looks forward to continuing "to be discipled by him and to learn from him what it means to be a godly person."
Okinaga does not limit his investment in students to a group of three men, however, as he and his wife, Nicole, also host multiple parties and get-togethers at his house for other students.
"There are a bunch of guys who enjoy sports, so I invite them over to watch sporting events and just open it up for any students who are interested," said Okinaga. "We had about 40 students over for a Super Bowl party and we had about 10 guys over for the NBA finals who watched every game with us."
For Okinaga's discipleship group, he enjoys inviting them over for Sunday dinners.
"This coming football season on Sundays, my discipleship group and their wives will be coming over to watch football," said Okinaga. "While they're at my house, we will enjoy a 'family dinner' which will be potluck style for all of us to grow closer together."
Outside of teaching, Okinaga enjoys barbecuing, gardening, and mowing his lawn.
"I love to host events at my house where I have people come over and I just grill for hours," said Okinaga. "I just love to feed people when they come over."
Okinaga emphasizes community with other believers when it comes to discipleship, but also with fellowship at Hallmark Baptist Church, his home congregation.
 "At a previous church we went to, I taught Sunday School, but when we moved to Hallmark, I just attended faithfully and it was quite nice to have a break."
Okinaga added that while the break was nice, he is now assisting in implementing a biblical counseling ministry at their church.
"We are investing in some of the other ministries already happening to get this started," said Okinaga on the biblical counseling ministry. "We are doing a suicide webinar in the next couple of weeks to try and reach a broader community who are dealing with depression, suicide, and anxiety."
Okinaga's heart is for his students to know the Lord more, for people to know the comfort that comes from Scripture, and for others to feel welcome in his home. He accomplishes this through his hospitality and teaching style.