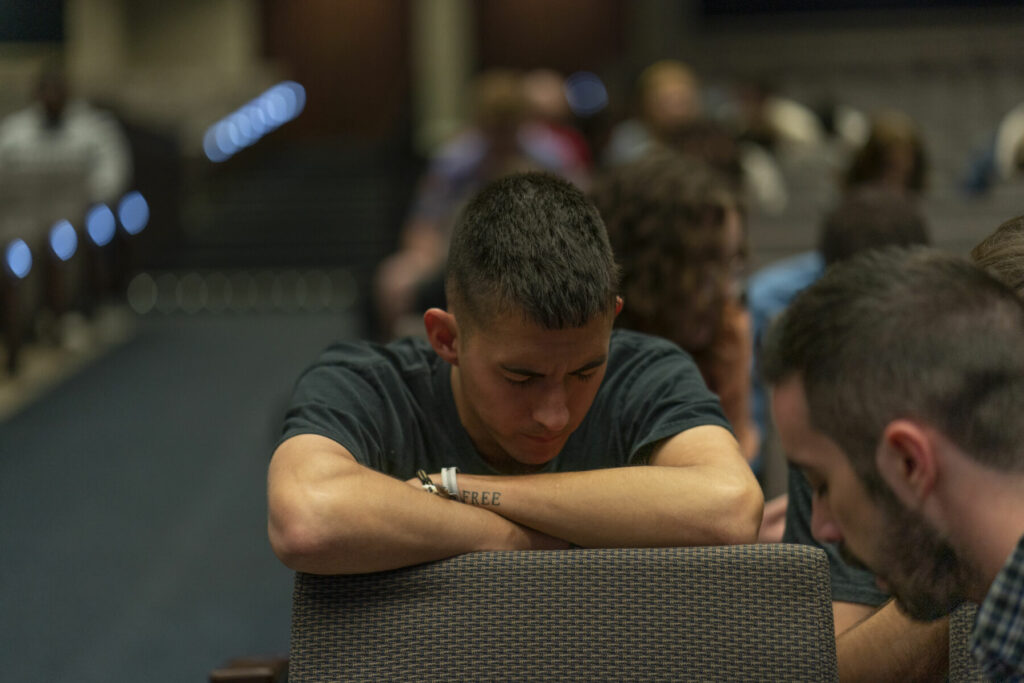 The morning of Monday, October 3, 2022, I arrived at Southwestern early. Driving up to the cream dome arced against the fall blue sky was more than a return to campus for me. I grew up on Seminary Hill. My father taught here, and years later my grandchildren were born in seminary housing while my children worked through their degrees. One Mother's Day, as a gift, my family enrolled me in a class, transforming me into a Southwesterner, too.
I slipped into the rotunda while it was still empty, echoing, dark, the spotlights on each president's portrait offering the only brightness in the room. The heritage behind those huge paintings is ours; we are the heirs of their prayers. B.H. Carroll prayed fervently. According to seminary archivist Jill Botticelli, during the time he was looking for a home for the seminary, he lay on the floor crying, "Oh, God, they don't have any idea about what needs to be done. Their dream is not big enough!" L.R. Scarborough's mother prayed over his cradle that God would call her son to preach, which God answered giving Scarborough passion for the lost that resulted in our "Chair of Fire," the first-ever academic chair of evangelism. Scores more followed on their knees, friends like Jack MacGorman, Roy Fish, and Paula Hemphill.
I'd grown up hearing my father pray for the seminary, especially that Jesus be glorified here and that the campus be called to continual prayer, sometimes so deeply and intensely that I thought he would cry. The last words he heard on earth were my own, praying for the hosts of Southwesterners he'd taught and discipled. Sitting on a bench looking across the iconic stone map, I could still hear his voice interceding for Southwestern in my memory. Some answers to prayer are bigger than one lifetime. I was about to experience that.
The evening before, Dr. David Dockery had asked his Facebook friends to pray for Southwestern writing, "I would like to ask you to join us over the next 40 days in praying for Southwestern Seminary. Please pray that the Lord in his mercy would once again grant his favor to Southwestern. Your prayerful support will mean much and will be greatly appreciated." Southwestern was facing difficult days. It struck me that I'd never heard such a public, simple, humble request for prayer from a leader of a Southern Baptist Convention entity. God commandeered my heart to intercede for Southwestern.  I emailed Dr. Dockery that night committing to pray and asked if there were any gatherings on campus I could join. He invited me to come to the rotunda to pray the next morning.
The rotunda quietly filled with scores of students, faculty, staff, and administration. I had the sense that none of us had ever been in this situation before, and although unsure or maybe even insecure, we knew we were called together to pray. Voices began rising, asking for help, for mercy, for repentance, for unity, and, following Dr. Dockery's lead, asking for God's favor on Southwestern (Ps 90:17). At the close of the hour, the dome filled with voices praying the Lord's Prayer in unison, "Thy Kingdom come, Thy will be done here, as it is in heaven." I was overcome with the realization that though my father didn't get to experience this unfolding answer to his life prayer, I did.
Dr. Dockery invited me to help enlist people to pray. We sensed a need to pray altogether. That first week with Malcom Yarnell and Richard Ross leading, we began to pray before chapel, a practice that continued and grew throughout the year. Departments prayed together each day. Small clusters prayer-walked around campus and through student housing. Student-led groups shared prayer needs through apps during the week. We seemed compelled to pray with each other.
I wrote Dr. Dockery, "The heart to pray is resonating and spreading. I'm hearing from folks committing to pray who are offering to share [the need] with friends who are Southwesterners…"  As October foliage gave way to November chill, the leadership of the BGCT, SBTC, Widow's Might Ministry, SWBTS Women's Auxiliary, Tarrant and Dallas Baptist associations, Seniors of Southwestern, and others joined in intercession for Southwestern. Alumni and friends began coming to the Monday rotunda prayer times. Our 40 days of prayer were extended through the end of the semester.
As the spring semester drew us back onto campus, corporate prayer grew. In the rotunda prayer time schools and departments took the lead in praying for each other across campus: the Fish School of Evangelism and Missions praying for administration, or the Admissions Department praying for student leadership, or the School of Church Music and Worship praying for the Terry School.
Prayer was already a significant thread in the Southwestern tapestry. The newness this spring was the desire to pray for and with each other cross-campus, along with an increasing dependence on the Lord in prayer. This sense intensified as the April trustee meeting approached. We invited the campus to pray and if led, to fast, individually or in schools or departments for our trustees. April 18 was designated a "Day of Prayer for Southwestern," as regular chapel was set aside for all faculty, staff, and students to pray together in chapel for the trustees, for Dr. Dockery and Dr. Hawkins, and for their critical decisions.
That day chapel poignantly reflected the first Monday rotunda prayer time back in October. Joe Crider led in two or three hymns of worship, and then Matt Queen divided us into small groups to intercede for our trustees through each clause of the Lord's Prayer.  I watched small groups of students with theology faculty, library staff with missions professors, administrators with music students, on their knees or with bowed heads fervently, asking for His guidance, presenting our physical needs, asking forgiveness for our transgressions, and requesting His protection from evil, for the sake of His kingdom, power, and glory.
The prayer call continues at Southwestern. Dr. Dockery has not just called us to pray; he prays that we pray. We will persevere until He returns. Sometimes a prayer is bigger than can be answered in a lifetime, including our own.
Melana Hunt Monroe is director of prayer ministries at Southwestern Seminary. She is the daughter of the late T.W. Hunt, who served as professor of music and missions at Southwestern.