Registration open for Southwestern Alumni and Friends Luncheon at SBC; booths to highlight connecting with alumni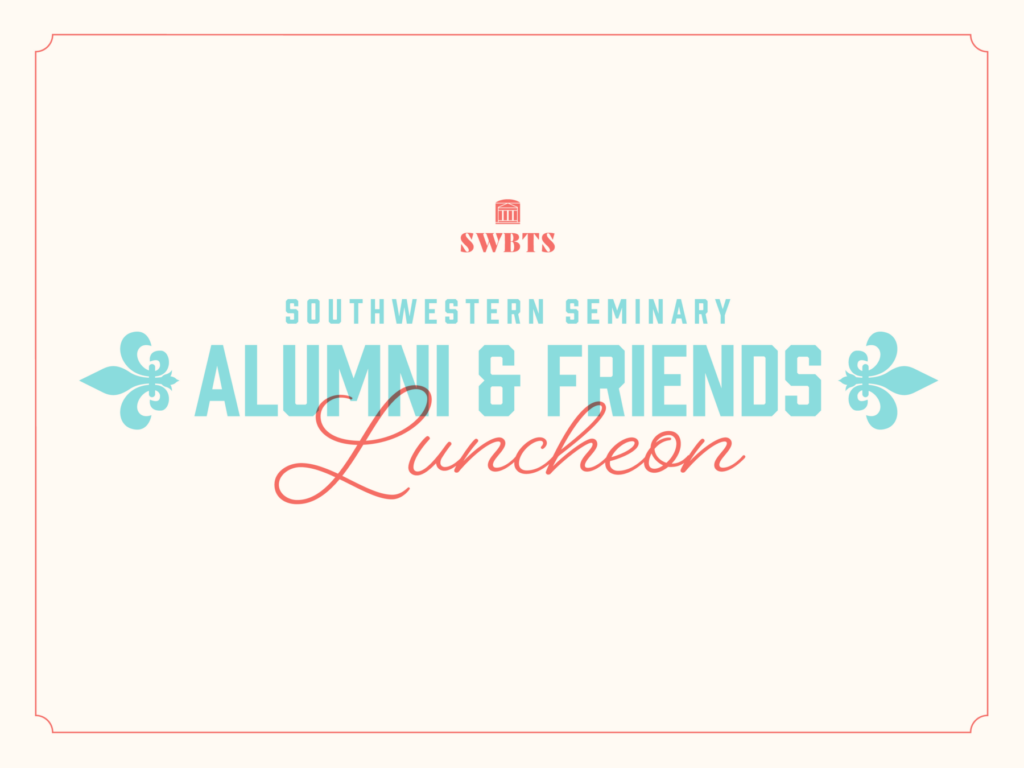 Southwestern Baptist Theological Seminary will host its annual Alumni and Friends Luncheon at the Southern Baptist Convention annual meeting Wednesday, June 14, from 12:00-2:00 p.m. at the Sheraton New Orleans Hotel in the Grand Ballroom. The Fort Worth institution will also host two booths during the June 11-14 meetings in New Orleans.
"O.S. Hawkins and I look forward to welcoming Southwesterners to the annual Alumni and Friends Luncheon at the Southern Baptist Convention in New Orleans," said David S. Dockery, newly elected president of Southwestern Seminary. "This event is a highlight each year during the SBC as an opportunity to reconnect with our alumni and those who have provided vital support to Southwestern Seminary."
The annual event allows Southwesterners from across generations to reconnect, honor distinguished alumni, engage retired and current faculty, and hear updates from the institution's leadership.
Dockery said during the luncheon he "will be offering an update on developments on Seminary Hill, as well as my hopes and prayers for the future of our seminary."
During the luncheon Dockery and Hawkins, recenctly elected chancellor, "welcome an opportunity to answer questions from our alumni and friends during a Q&A time," Dockery said. Attendees must submit questions at the time of ticket purchase or until June 12 at 5:00 p.m. CT.
Dockery encouraged Southwesterners to "please plan on joining us in New Orleans for a time of encouragement and fellowship."
Buddy Gray, pastor of Hunter Street Baptist Church in Hoover, Alabama, and retired Maj. Gen. Dondi Costin, the newly appointed president of Liberty University in Lynchburg, Virginia, will receive their 2023 Southwestern Seminary Distinguished Alumni awards at the Alumni and Friends Luncheon. Gray earned a Master of Divinity from Southwestern in 1983, while Costin is a 1994 Master of Divinity graduate of the Fort Worth institution.
Luncheon tickets are $20 each or $175 for a table of ten. In addition to a three-course meal, attendees will receive a copy of Dockery's What Does it Mean to Be a Thoughtful Christian?, published by Lexham Press in 2021. The book encourages Christians to "be intentional about their thought life" and "follow guidance from the Bible, possess a consistent worldview, listen to voices of the past, engage with the world, and prioritize faithful community and character development."
"This is one of the most exciting events we do each year because we have the unique privilege of providing a space for Southwesterners to reconnect with old friends, visit with faculty members, and share their ministry struggles and successes," said Beka Hodges, associate director of marketing and alumni engagement.
Southwestern Seminary will also host two booths during the June 11-14 meetings. At the SBC Pastors' Conference on June 11-12, visitors to the seminary's booth who provide a student referral will receive a free copy of The Gospel Invitation by Hawkins and Matt Queen, interim provost and vice president for academic administration and L.R. Scarborough Chair of Evangelism.
Visitors to the Southwestern Seminary booth in the annual meeting exhibit hall who provide a student referral will receive a digital copy of Philippians: Joyful Unity in the Gospel, edited by Dockery. The first of The Southwestern Pulpit series, the book is a collection of sermons from faculty and invited guests who preached through the New Testament epistle during Southwestern's spring 2023 chapel services.
Those who submit referrals from both booths will be entered to win one of two giveaways, a collection of 25 books authored by Dockery or Hawkins's "Code Series" of books. Both giveaways include a leather bag from Saddleback Leather that features the Southwestern Seminary logo.
Additionally, alumni who visit the Southwestern Seminary booth in the exhibit hall will have the opportunity to pick up a "Southwesterner" ribbon to attach to their nametag, as well as pens, stickers, and alumni lapel pins. In addition to Dockery, Hawkins, and Queen, other seminary faculty and staff will be available in both booths throughout the annual Pastors' Conference and annual meeting.
More information and ticket purchase for the Alumni and Friends Luncheon can be found here.