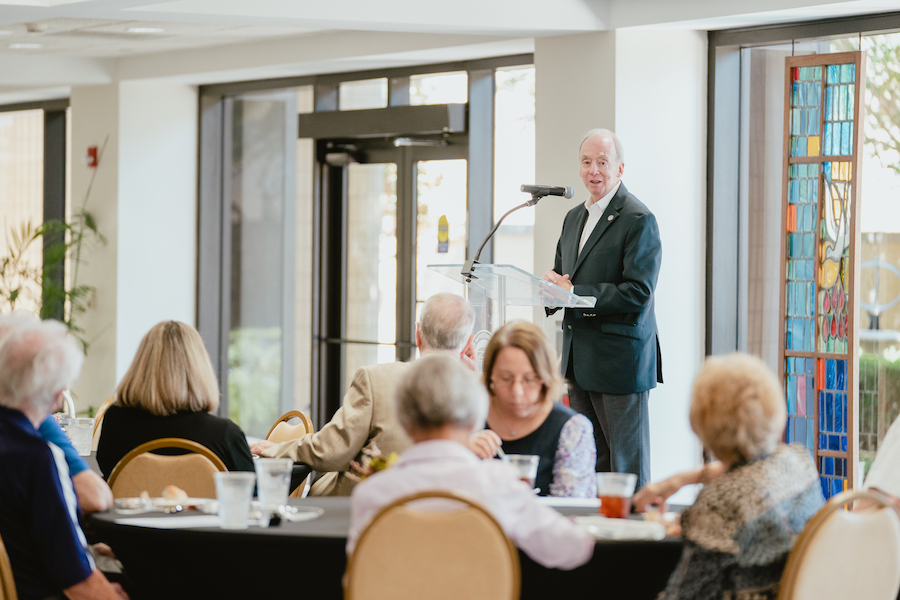 Gathering together in the Riley Center Lane, over 40 members of Seniors of Southwestern, a group of senior adults who are current and former faculty and staff who have served the seminary for 10 years or longer, met for their quarterly lunch and fellowship on Sept. 7, on the campus of Southwestern Baptist Theological Seminary.
"When you are here for this meeting, and we're all together, it makes for a very special gathering and reminds us of what a special heritage we have here at Southwestern," said David S. Dockery, president of Southwestern Seminary.
Dockery welcomed the gathering with words of encouragement and a big-picture overview of what is happening on the campus.
"I think the difference between this fall and last fall is hard to describe," said Dockery. "We are so thankful to God for the good work that He is doing. We still have a long way to go and much work to do."
Following his remarks on the state of Southwestern, which included enrollment number updates, information on the recent approval of the sale of the Carroll Park housing, and upcoming events on campus, Dockery opened the floor for questions.
Responding to a question about the self-sustainment of the Hispanic Programs, Dockery provided an update on all the foreign language programs at Southwestern, including the classes taught in Mandarin, Korean, Spanish, and Portuguese. Dockery said that outside of the director of Hispanic Programs, Mark McClellan, all instructors in the Hispanic Programs are less than full-time and "largely because of Dr. McClellan's leadership, it is a healthy program."
Attendees also heard from Gary Waller, who previously served as professor of administration and dean of distance learning at Southwestern for more than two decades. Waller is the chairman of Seniors of Southwestern and currently serves as minister of education at First Baptist Church of Benbrook in Benbrook, Texas.
"We're always glad to see more of our people here," said Waller. "Not just because of fellowship time, but it allows us to make connections with them. We were excited for the increase in numbers to our time of fellowship."
In attendance at the luncheon were current faculty members including Richard Ross, senior professor of student ministry, Jack D. Terry, interim vice president for institutional advancement and senior professor of foundations of education, and John Mann, associate professor of business and theology and assistant to the president for constituent relations.
Waller noted that while the group is composed of educators and theologians, the bylaws are clear in that the meetings are intended to be fellowships.
"In the bylaws, it specifically says that this has to be a fellowship and a time of encouragement of one another," Waller explained. "A time of catching up to date on each other and what's going on with their families, and by no means is there to be preaching of any kind."
Sandy Mann, director of women's auxiliary and special events at Southwestern Seminary, said that the Seniors of Southwestern group continues to grow. "We see a lot of our seniors of Southwestern coming back, so it is really good to see that," said Mann.
Waller provided updates about who to contact in the Office of Institutional Advancement and when the next meeting of Seniors of Southwestern would be. He then went from table to table asking for updates from the luncheon attendees.
Waller also provided updates from members who were not able to attend the meeting and their prayer requests as well.
The next meeting of Seniors of Southwestern is scheduled for Dec. 7.