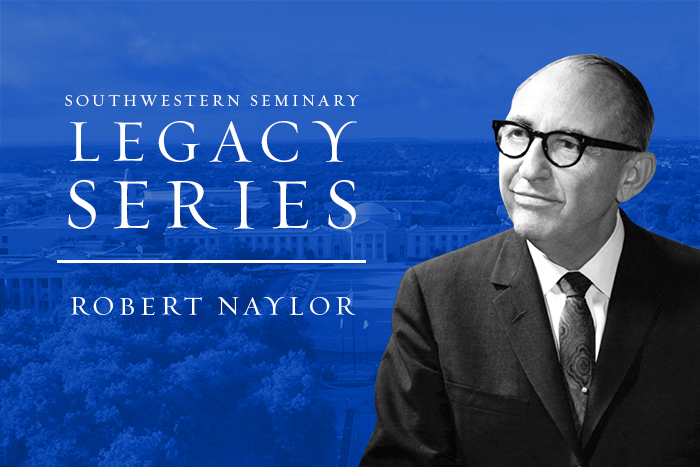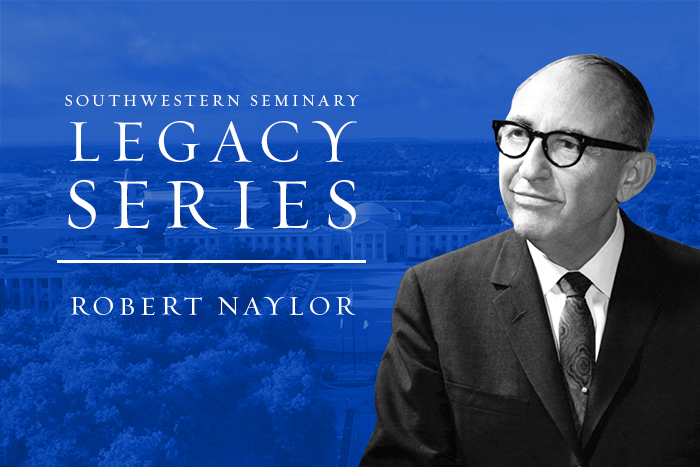 In his 1958 inaugural address, Robert Naylor posed the question, "Is there a single word that can tie together the first year of the seminary's life with this year and the last year?"
In Southwestern Baptist Theological Seminary's first 50 years, much had changed from the time of B.H. Carroll and the seminary's founding faculty. L.R. Scarborough, E.D. Head, and J. Howard Williams were worthy successors who led the seminary through many challenges and triumphs. Each had a unique vision for the seminary, and even while changes naturally occurred in that time, there remained one constant.
"The word is Gospel," Naylor concluded.
As he addressed the men and women of Southwestern Seminary and the Southern Baptist Convention (SBC), Naylor ushered in a new era, the beginning of another 50 years of God-called men and women trained to be ministers of the Gospel.
Robert Naylor would continue a legacy of Gospel devotion at the seminary with which he would have a long relationship as student, friend, trustee, and president. Throughout his 20-year presidency, Naylor would cast and execute a vision for a thriving institution that would emerge as the largest seminary in the world.
In his inaugural address, Naylor called for a "Gospel fellowship" of individuals who would surrender to God as "Gospel preachers, teachers, students, and witnesses." He continued, "The meaning of our ministries and the unity of our diversity is the Gospel."
First addressing students, Naylor said, "The student in the seminary says, 'I have believed. Therefore, by the will and special call of God, I must preach the Gospel.' So this one turns away from a professional study to the seminary. This one turns away with his engineering degree to the things of theology. The compulsion becomes primary in life."
As a young man, Naylor had also abandoned pursuit of another career for the calling of preacher of the Gospel.
Born on Jan. 24, 1909, Naylor was the son of a Baptist preacher. Naylor would later recount memories of traveling with his father in a horse-drawn buggy to visit many small congregations in Oklahoma.
Much of his early life revolved around the church, but his sights were set on a future in business. Naylor was a brilliant student who skipped several grades throughout his primary education, eventually completing his college degree before the age of 20.
During his senior year of college at East Central State College in Oklahoma, Naylor surrendered to the Lord's calling and made the dramatic decision to move to Fort Worth, Texas, to attend Southwestern Seminary. Although the 19-year-old did not yet meet the age requirement for admission, he was able to gain special permission from President L.R. Scarborough.
During his second year in the seminary, Naylor started his first position as a part-time pastor of a church in Ada, Okla. He also preached at some other small congregations near the town.
Each weekend, Naylor left his J.C. Penny department store job at 10 p.m., caught the next available train, and slept on the train for the 180-mile ride to Ada, usually arriving around 5 a.m.
Once there, Naylor would preach his first service in Ada, and then make the preaching rounds to about four other congregations throughout the day before catching the 3 a.m. train back to Fort Worth.
Naylor graduated in 1932 with a Master of Theology and soon received his first full-time pastorate. For the following 15 years, this Southwesterner served in several churches in such places as Arkadelphia, Ark.; Nashville, Ark.; and Enid, Okla. He eventually returned to Fort Worth in 1952 to pastor Travis Avenue Baptist Church, where he served until 1958.
During those years, Naylor also began serving many institutions' committees and trustee boards. In 1941, just nine years after his graduation from the seminary, Naylor became a member of Southwestern Seminary's board of trustees. He served during the presidencies of E.D. Head and J. Howard Williams. He chaired several committees and was twice elected board chairman.
Naylor treasured these years and the opportunity to serve his alma mater. In his inaugural address, he noted the significant role trustees, as well as other supporting roles, played in the seminary's success.
"The layman, the trustee, the friend of the institution, says, 'Having believed, I must help in training the called of God. I will give direction and advice, build a building, give money to endow a chair of teaching in this institution, preach the Gospel through thousands of lives.'"
In 1958, Southwestern Seminary mourned the sudden loss of their president, J. Howard Williams. He had set into motion many plans and visions for the school, but was unable to complete many of them before his death. Upon his nomination to the presidency, Naylor took up the mantle and began to lead the seminary into a new era, promising to lead his beloved seminary with a commitment to the past while marching forward toward a bright future.
Among the seminary's founding principles was a devotion to missions and evangelism. Naylor reaffirmed these principles and promised a presidency devoted to the Gospel and to the Word of God.
In his inaugural address, Naylor continued, "The administration says, 'I have believed [the Gospel]. Therefore, under His will, I must lead in training the ministers, sending missionaries, building a school, dreaming dreams.'"
Naylor had many dreams for the future, and he saw many of those dreams come to fruition as enrollment numbers swelled to an all-time high, making Southwestern Seminary the largest seminary in the world at that time.
Due to the dramatic growth in those 20 years, the seminary required many additions and updates. As early as 1959, Naylor began making additions to the faculty, ultimately doubling the number of professors by 1978.
Naylor was a man of great conviction, particularly regarding what he described as the Christian's duty to evangelism and to the Word of God, a high standard he had for himself and his faculty. Addressing such a role in his inaugural address, he said, "The teacher says, 'I have believed the Gospel. Therefore I must teach the Gospel in the seminary.' Teaching is more than a profession or vocation; it is the handling of the Word of life."
Many of Naylor's chapel sermons, as well as editorials written in Southwestern News, frequently emphasized such principles. No one ever doubted his devotion to the Bible as the "inspired revelation of God."
Southwestern Seminary was also functioning in a new era for seminary funding. The SBC Cooperative Program (CP) had implemented a new funding concept for its six seminaries, an idea for which Naylor himself had advocated. Distribution of CP resources would be reevaluated many more times, but the changes marked the beginning of a new era for SBC theological education and the denominational commitment to supporting seminary men and women.
"The denomination says, 'Our fellowship of faith and cooperation demands that we must train these men and women called of God to preach. These 30,000 new preaching stations will have for them men and women whom God has chosen. These we must train,'" Naylor said.
Through generous donations and especially through new Cooperative Program funds, the seminary was able to fund many projects and necessary campus updates, boost overall operations, renovate existing buildings, and build new structures.
Naylor continued many of his predecessor's campus expansion initiatives, but also launched many new ones. Among the newly envisioned structures completed during his presidency were the Naylor Student Center (which trustees voted to name in his honor), a medical center, an official home for the president, a children's center, and finally a physical fitness center.
On Nov. 22, 1976, Naylor informed the seminary trustees of his plans to retire in two years. He wanted to make the transition a time of ease for his successor. On Aug. 1, 1978, Naylor assumed the title president emeritus, and although he had retired, he continued to be a constant supporter and encourager of the seminary for which he had devoted the majority of his life since leaving his Oklahoma home in pursuit of God's calling at the age of 19.
In his last message to the trustees, Naylor reflected on 20 years of Gospel-devoted service as president of Southwestern Seminary.
"At the outset of this last 20 years," Naylor said, "I made a fresh commitment to my Lord and to the trustees of this seminary that we would faithfully follow Him and that we would adhere to the authoritative revelation of God in Christ Jesus set forth in the One Book. It is on this commitment that I stand, that I ask under God that the years be measured, and that I ask only of Him that I be found faithful."