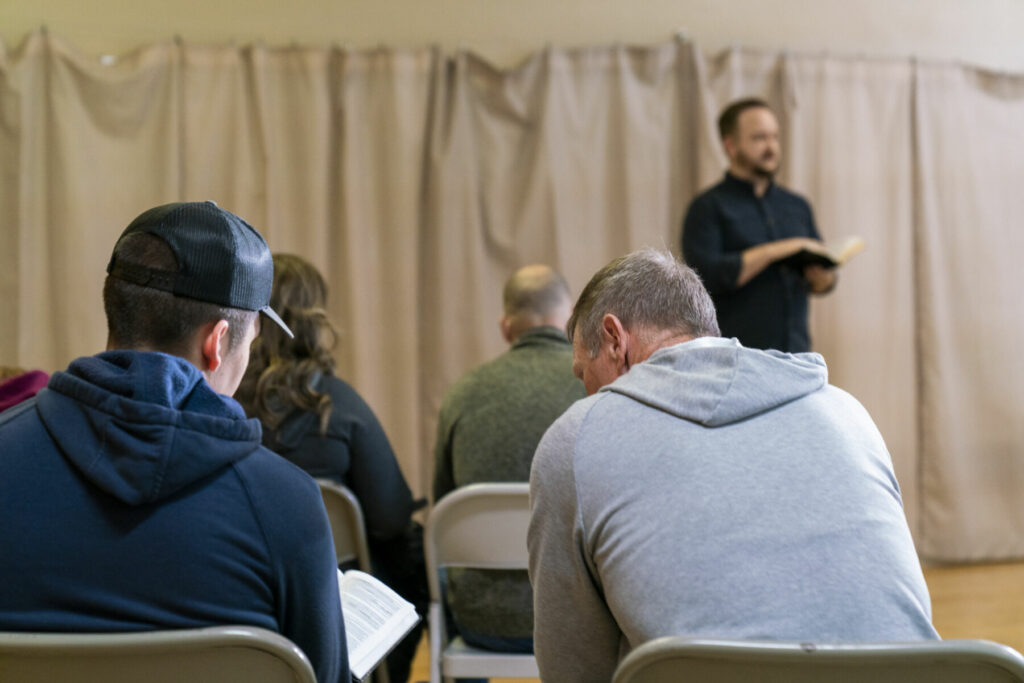 "What is RTN?" you may ask. It is something that changed my life, and I am sure it can change yours as well. My Revive the Nation (RTN) journey began in 2017 while I was working on my Master of Divinity. I love preaching and, when I heard about an opportunity to go somewhere else (at someone else's expense) and preach to people I did not know, it sounded very magnetizing and adventurous. It felt as if I had a chance to step into the shoes of Jesus's students, whom He sent out to preach the Gospel commanding them not to worry about what to eat, where to sleep, and how much money they had to have in their purses to pay for their travels. Spoiler alert! RTN did not disappoint. They sent me to an Indian reservation in South Dakota. March in Texas is usually tricky, it can be cold or hot, but there was nothing tricky about March in South Dakota. It was freezing cold with much snow. I stayed in the building of the First Baptist Church of Eagle Butte and slept on an air mattress trying to get warm with anything I could use, but it was worth it.
We had revival meetings every night. The small church was never empty and some came forward to pray and give testimonies. We went door-to-door with Ben Farrar, the church pastor, and had conversations with locals. Everything was great, except for one thing. I came to preach revival, but while doing it, I realized I had no idea what I was doing. I suppose my preaching was good, but whatever it was, it was not revivalistic preaching. Realizing this void prompted me to study.
When I was finishing my master's degree, I felt led to go on and earn my Doctor of Philosophy. I knew I wanted to study preaching, especially revivalistic kind of preaching. After talking to some professors, I decided to pursue church revitalization as my major because revival was a big part of it, and preaching as my minor. While finishing my seminars, I decided to apply for RTN again. As soon as the program restarted after the COVID-19 break, I was sent closer to home, to the small town of Sinton, Texas, next to Corpus Christi. This time I wanted to put into practice what I learned. It was not a preaching practicum, a short-term mission trip, a networking opportunity, or some kind of internship. I prayed and fasted wanting nothing but to experience a real revival. I told God I did not want to go or do anything if He was not going to come with me and revive His people. The sanctuary of First Baptist Church of Sinton was substantially bigger than in Eagle Butte, but its pastor, Joshua Robinson, was concerned that if only about 10 people were to come it would discourage me.
God answered prayers, and many times more than that were coming every night. Right from the start, a young man stayed to talk with the pastor, who led him to Jesus and he decided to get baptized. Some others came forward and prayed at the altar. It was nothing spectacular, but it was something; something spectacularly beautiful. The Holy Spirit was there and I felt Him speaking through me and touching hearts. It was an experience like nothing else. Joshua, who is also a current Southwestern Baptist Theological Seminary student, was an amazing host, and he has a huge heart for evangelism and revival. An elderly couple from the church hosted me in their beautiful house where I had everything I needed. I left for home exhausted but happy. It was not perfect. I am sure I have more to learn and pray for, but this time it looked much more like a revival.
So, what is revival? My working definition of revival is evangelizing believers. It does sound somewhat oxymoronic and I realize it. Why would you evangelize believers if they are already saved? For starters, how can you be sure all of those, who think they are Christians, are saved? Did you see their hearts when they prayed that prayer? Did they really repent of their sins and commit themselves to Christ? Then, even if they did repent and commit to following Jesus, how do you know if they are not living in doubts, sins, and sinful habits that cripple them spiritually, poison their lives, kill their desire for spiritual things, and prevent them from being filled with the Holy Spirit?
The truth is that the only way out of any kind of spiritual bondage is the same as the way into the Kingdom of God. It is hearing the Gospel, faith, repentance, and commitment. The difference between evangelizing the lost and reviving the saved is that the saved already know the Gospel. They just got used to it so much that they do not react to it anymore. It is even worse if they think the Gospel exists only for unbelievers. Evangelizing skeptics, people of other faiths, atheists, or people, who simply do not care about spiritual things is hard. Preaching the Gospel to a church may feel like a much easier task and in many ways it is. However, it also has its challenges and Christians have their own walls built against the Gospel. It takes a special approach to get through the defense lines of familiarity, complacency, and even immunity to the Gospel, and present it not only as good but also as something new, as if they never heard it before. Yet, revivalistic preaching is more about preparing yourself than your sermons. If what you speak does not touch your heart, it will probably not touch anyone else's. If the Gospel does not break, heal, excite, and overflow your heart, it will probably do nothing to someone else's.
"What is RTN?" you may ask. It is something that changed my life, and I am sure it can change yours as well.
 A native of Kyiv, Ukraine, Anatoliy Orgunov earned a Master of Divinity from Southwestern Seminary in 2018. He is currently pursuing a Doctor of Philosophy degree with a concentration in church revitalization.