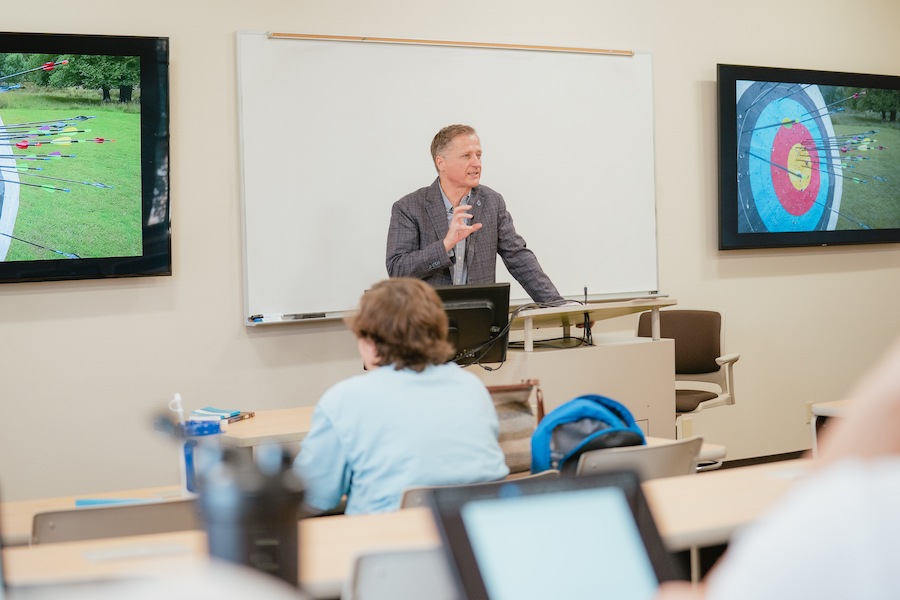 As a Master of Divinity student at Tyndale Seminary in Toronto, Canada, J. Stephen Yuille, professor of pastoral theology and spiritual formation at Southwestern Baptist Theological Seminary, needed one more elective to finish his degree. Taking a course in "Puritan Piety" not only fit his schedule but would also help define his future ministry.
Since the fall of 2022, Yuille has taught courses in church history, pastoral theology, and spiritual formation at Southwestern. He explained the "Puritan vision of the Christian life" informs his classroom teaching in three "significant" ways.
"The Puritans had a very God-entranced view of life, reality, [and] worship," Yuille noted, adding they "very much viewed all of life through that lens – the glory of God." He said, "That's key in spiritual formation" as students need to know "what is the end here?" Both "knowing God" and "glorifying God in every facet and every area of our lives" are the purpose of life, he said.
The Puritans' "emphasis on the doctrine of union with Christ" is the second area of Puritan life Yuille identified. He said the doctrine "is central to their understanding and vision of the Christian life," which impacts spiritual formation as "all" that believers "are seeking to do – conformity to Christ – flows out of union with Christ."
The final area Yuille noted was the Puritans' "emphasis on the experiential" observing the group focused so much on the experiential they were often referred to as "physicians of the soul" as they dealt with "issues of repentance and humility," "contentment," and "cultivating the Christian graces of faith, hope, and love." He added they were "very insightful," "pastoral," and "devotional."
Yuille brings interest in the Puritans, as well as his varied ministry background to his classroom teaching as he seeks not only to equip students with the skills for ministry, but also help form them in their walk with Christ.
Yuille grew up in Markham, a Canadian town just north of Toronto, where he was a third-generation Christian on both sides of his family. He came to faith in Christ as a young child and was "raised in a Christian home, attended a God-fearing, Bible-believing, Gospel-preaching little church in my town" and was baptized as a 13-year-old, he remembers. However, it was in his 20's "through a number of different influences" that Yuille became interested in theological studies.
Following completion of a Bachelor of Arts degree from the University of Toronto and a Master of Theological Studies degree from Toronto Baptist Seminary, Yuille "developed an interest in the English period." However, Yuille and his wife, Allison, spent many years serving in "the area of international relief and development" before he began serving in the area of theological academia. The desire to serve overseas led them to serve in Angola and Zimbabwe where he worked on "drilling wells" and "building schools" which gave the couple "some exposure to missions in that part of the world."
When the couple returned to their native Canada, they continued to "work in that field" and "dealt with development for a couple of years," Yuille explained. However, simultaneously, "a burden started to take root, started to take shape in terms of missions – reaching the lost."
With a desire to serve in Angola, the couple moved to Portugal to attend language school in 1995 as Portuguese is the national language of the Southern African nation. However, upon arrival in Angola, the country was in the middle of a Civil War and the couple returned to Portugal where they served as missionaries for five years, Yuille remembered.
As they were engaging in evangelism and "some Bible teaching" while on the field, Yuille was "working part-time on a master's" through correspondence courses, he said. Upon return to Canada "the natural progression was then serving in the church, pastoral ministry, [and] teaching at a small Bible school near the town where we were living," Yuille recounted, noting his time of teaching at Kawartha Lakes Bible College, which no longer exists, but provided a one-to-two year discipleship program for recent high school graduates.
However, it was during lunch with a professor during his Master of Divinity studies that Yuille was "encouraged" to "look into London School of Theology." Yuille was motivated to research at the school because he wanted to study English purity, but also "give a little attention to what is known as the Calvin versus the Calvinists debate," specifically "to what degree do the 17th century Puritans continue or depart from the theology of John Calvin." Yuille added that Tony Lane, professor of historical doctrine, was also on faculty at the school and a "John Calvin expert."
Yuille wanted to "study someone that no one else had" and his research led him to George Swannack who he described as someone "no one has ever heard of, which is one of the reasons … that attracted me to him." Yuille said Swannack was a "Presbyterian" and a "non-conformist" and he wanted to examine "his doctrine of salvation, trying to account for it and explain how it shaped his vision of the Christian life."
Yuille eventually graduated with a Doctor of Philosophy from Brunel University in the United Kingdom.
The passion Yuille has for his teaching topics is what students glean from him in the classroom.
"He's like a scholarly Gandalf of church history," said Michelle Huckleberry, a Master of Theological Studies student from Jacksonville, North Carolina. Gandalf is the wise wizard in the classic J.R.R. Tolkien novels The Hobbit and The Lord of the Rings who guides and advises the hobbits.
Huckleberry said Yuille "brings dead people to life" in the Church History I and II courses she has with him as "he's very excited to talk about history, which is kinetic."
He "equips you to have opportunities to share what you've learned with others," Huckleberry added. She explained the Sunday conversations she has with one of the young ladies at her church began with Huckleberry "simply asking her what she's been reading in the Word" and they have now "morphed into us sharing about a former theologian or missionary that sets the stages for our ministry today."
"Yuille has certainly ignited an interest in researching the many men and women that have so faithfully set the example for us in servanthood to Christ," Huckleberry concluded.
Conrad Mills, a Master of Divinity student from Cleburne, Texas, said that Yuille is "extremely passionate about church history, but also well studied and well-read on the topic."
"Dr. Yuille's class has shown me that the church should be conscious about our history, learn from the past, and appreciate how the Gospel has continued to reverberate throughout the ages," said Mills who is in Yuille's Church History I class this semester. "Due to his influence, I have referenced the works of individuals in church history when preparing a sermon, studying a theological topic, or engaging in Bible study."
Mills said Yuille's "love for Christ, love for the Word of God, and his love for his students is evident to all who interact with him" adding that the professor's teaching has "has reinforced my conviction that the Word of God should be primary in the life of the Christian and in the church."
"Faithful ministry throughout the ages has started with a commitment to the Word of God, and relied on it from beginning to end, which is a truth that Dr. Yuille has so clearly, wonderfully, and pastorally impressed upon all who have the privilege to study with him have learned," Mills concluded.