Houston-based college minister meeting students where they are with the Gospel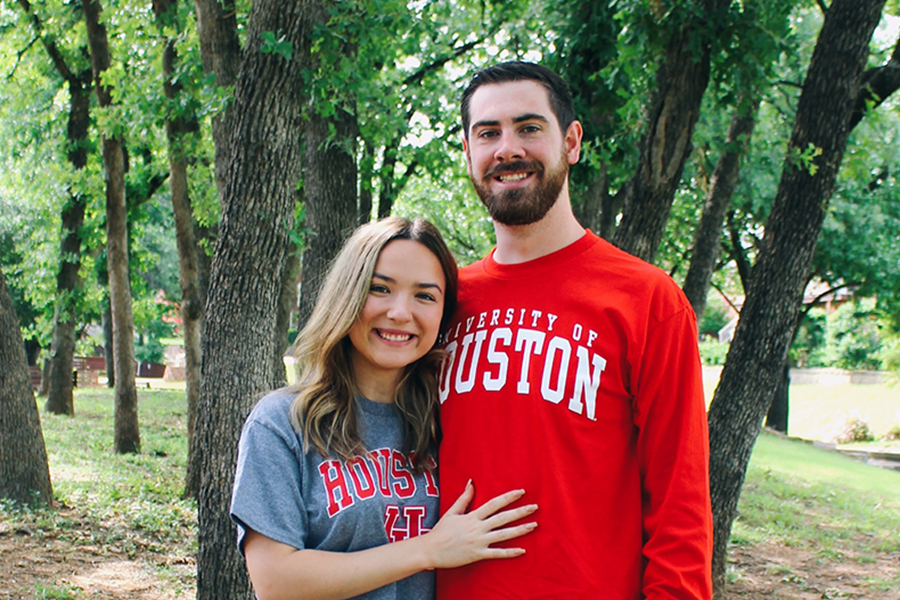 When God reveals His calling in one's life, it can be very nerve-racking and can take some time to be fully revealed. This is true for Hunter Mullennix, a current Master of Divinity student at Southwestern Baptist Theological Seminary, who serves as the college minister at Houston's First Baptist Church.
For the Pottsboro, Texas, native, Houston seemed to be the least likely place he would live. "I told my wife, Hannah, that I would be willing to move anywhere but Houston," said Mullennix. "There was nothing that made me desire to live in Houston." Mullennix elaborated that all of his favorite professional sports teams, including the Texas Rangers and Dallas Cowboys, are located in the Dallas-Fort Worth Metroplex and their in-state rivals are located in Houston.
While growing up in Pottsboro, a small town a stone's throw from Texas's shared border with Oklahoma, Mullennix said that his life mostly revolved around sports. "My life really changed when two kids on my fourth-grade baseball team invited me to go to church with them at Georgetown Baptist Church," said Mullennix. "I wasn't saved until I was in the seventh grade when I went to a D-Now event that February of 2010 and I gave my life to Christ during that worship service on a Saturday."
After giving his life to Christ in the seventh grade, Mullennix still searched for someone to help him know how to live his life in a way that reflects Christ. "One of the deacons from our church, Jason Brown, opened his house up to me and some guys on the baseball teams on Monday nights after practice when we were in high school," said Mullennix. "He taught me what it was like to follow Jesus and how to invest in others."
Mullennix also said that Brown pushed him and his teammates to start discipling younger people in their youth group to help invest in their lives. "Through Jason pushing us to disciple the middle schoolers, I really felt a call to ministry," said Mullennix. "At the time, I thought it was youth ministry because that was all I knew."
After high school, however, Mullennix said he was "sort of running away from the Lord" during college at the University of North Texas in Denton, Texas, where he was involved in fraternity life. "I joined the Christian fraternity and kind of assumed that the world would be enough for me," said Mullennix. "The reality was, I was pursuing the world and just doing the church on the side, but the Lord was not done with me."
While his life was not reflecting his calling at that time in his life, Mullennix said that the Lord used several mission trips through his church to Chiapas, Mexico, to bring him back to His will and start working in his life again.
"After the mission trips, I was like, 'Man, I feel like missions is something I am really interested in,'" said Mullennix. "I just looked up on the internet, 'mission organizations with trips longer than a week,' and the Hands-On program through the IMB popped up," he added, referring to the International Mission Board.
The Semester Hands-On program allows students and young adults to spend a semester on mission internationally through the IMB. The students and young adults work with a mentor missionary to share the Gospel with an unreached people group.
After his calling was refined through serving during the spring semester of 2019 with the IMB in Oaxaca, Mexica, Mullennix was looking to work in collegiate ministry with the IMB. However, after attending a college ministry conference specifically for ministers, Mullennix received a call about potentially joining Houston's First Baptist Church as a college minister.
"I was on the phone with Jared Gregory, my current boss, and I was just thinking, 'How do I politely tell this guy that I am not interested in moving to Houston?'" said Mullennix. "I don't know what possessed me, but I agreed to a 30-minute phone call that ended up being about an hour and a half."
Mullennix said that the Lord "really started moving his heart" towards the idea of relocating to Houston. What confirmed God's will for him was when his wife, Hannah, who was listening to the phone call, told him that was where she felt God calling them to go, too.
"After the hour-and-a-half-long phone call with Jared, I was willing to bear the cross of moving to Houston," Mullennix joked. "Even though this was far away from family and friends, the opportunity was great and we would make our biggest impact for the Lord here in Houston."
Mullennix is the college minister at The Loop, the main campus of Houston's First where he was asked to help grow an independent college ministry from their downtown campus, which is one of four satellite campuses of the church. "We were having students go to one Bible study at the downtown campus and then more Bible study on Sunday night at our campus," said Mullennix. "I was hired to run The Loop campus and to grow the ministry here."
Mullennix said one of his focuses, and in turn, his ministry, is the power of prayer. "I and our students have been praying every day at 10:02, to pray for the harvest," said Mullennix. "We pray that the Lord will send out laborers and that we won't just have people say, 'Come see our ministry,' but will genuinely share the Gospel with other students on their campuses."
Through the college ministry at Houston's First, there are around 10 local college campuses where Mullennix is hoping to have both an impact and presence. These campuses include the University of Houston's main campus and the downtown campus, Rice University, and the locations of the Houston Community College system.
While working with Houston's First, Mullennix decided to pursue a Master of Divinity degree at Southwestern Seminary. He said he is "currently an M.Div. student but will soon be changing to the Master of Arts in Christian Education degree with a concentration in collegiate ministry."
"I feel that the M.A.C.E. degree is more suited for my current state in life and it is geared more towards how I want to learn," said Mullennix. "I grew up not liking school, but I am pursuing the M.A.C.E. degree because it is much more my speed and because I feel that this is what the Lord is calling me to."
Southwestern recently announced the revival of the collegiate ministry concentration that is offered for both the Master of Divinity and the Master of Arts in Christian Education degrees.
"I think that college ministry is the most strategic place to do ministry in America right now," said Mullennix. "These students are trying to figure out their lives and if we can meet them with the life-changing power of the Gospel, we can change the trajectory of the church and of a lot of people's eternal lives."
"Over the last 11 months of college ministry, I have seen the Lord prove that He is there even in the tough times," said Mullennix. "But it was so evident over the last year that this is what the Lord has called Hannah and I to do."
Through his time at Southwestern, Mullennix said he appreciates being taught how to be a good teacher. "Creating content week after week can be daunting," said Mullennix. "We want to be faithful teachers, but how will I be able to teach students if I am not ever being taught myself?"
Mullennix may not be a native Houstonian, but he is now invested in the very city he never expected to be a part of. He continues to serve the Lord through college ministry at Houston's First and is utilizing the resources at Southwestern Seminary to help equip him to do so.